Happy Jubilee weekend! Some of you will be celebrating in style, others... well, not so much. But hopefully you'll find some choice TV pickings below to tickle your fancy.
Latest Comedy News
Advert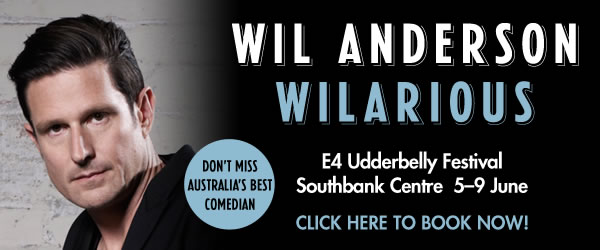 Also of interest...
Here are some links you might be interested in...

- Russell Brand says he and Ricky Gervais would be hilarious together: Metro

- TV comedy writers must be paid more, warns producer Jon Plowman: The Guardian

- An interview with Alistair McGowan about his new show: The Telegraph

- Lee Mack vows not to swear at Jubilee concert: The Sun

- A Rhod Gilbert interview: Den Of Geek

- Filming has completed on the new series of The Thick Of It: The Radio Times

More of this kind of thing every day via our Twitter account: @UKComedyNews
Features
The Cat Laughs 2012 - Day 1 Review

Jay Richardson reviews Adam Hills, Karl Spain, Josh Widdicombe and David O'Doherty at the first day of the Kilkenny Cat Laughs Comedy Festival 2012. Read
Cluub Zarathustra: British Comedy's best-kept secret

An article about Cluub Zarathustra, a weekly London comedy club in the 1990s, now almost forgotten about but something of a self-contained phenomenon at the time. Read
Richard Herring & Charlie Brooker podcast

Richard Herring chats to Charlie Brooker about losing a BAFTA to Stewart Lee, the vengeance Rich wishes upon Charlie's young family, tips for terrorists and some obscure stuff about archaic adverts and 50 year-old spoilers. Listen
Totally Tom interview

Comedy duo Totally Tom, one of the acts on new BBC Three showcase series Live At The Electric, deliver some amusing answers to our questions. Read
Hitchhiker's Guide Live - Win Tickets

We've got 10 pairs of tickets to give away to the exciting new tour of The Hitchhiker's Guide to the Galaxy Radio Show - LIVE! Enter
The Dictator competition

To celebrate the release of Sacha Baron Cohen's new movie The Dictator, we have teamed up with Paramount Pictures UK to offer you the chance to dictate your own luxury 5 star weekend for two. Enter
TV Highlights
Here is a guide to some of the things on TV from tomorrow till next Friday...


You Cannot Be Serious!
Saturday, ITV1, 7:30pm

This brand new show for ITV1 has been described to us as more-than-a-little like TV Burp - nothing less than a sport-themed version, in fact. Perhaps that's a little unsurprising, as it's from the same production team and Harry Hill's an executive producer? How the public react remains to be seen, so don't miss it. Guide
Starlings
Sunday, Sky1, 8pm

Sky's comedy drama continues. While Jan feels Gravy has some growing up to do, Terry would appreciate it if Charlie took time out from being a teen. Bell and Reuben make progress. Guide
Dara O Briain: School Of Hard Sums
Monday, Dave, 8pm

Dara O'Briain, Oxford University maths professor Marcus du Sautoy and comedy guest Andi Osho test their mathematical nous one final time in the last episode of the series. Guide
Morgan Spurlock's New Britannia
Monday, Sky Atlantic, 10:20pm

Morgan Spurlock is joined by Margaret Cho, Des Bishop and Rhys Darby to discuss awards in the concluding episode of the series. Music from King Charles. Guide
Britain Unzipped
Tuesday, BBC Three, 9pm

And another series finale, as Greg James and Russell Kane are joined by another special guest to take a look at British behaviour and plenty of bedroom habits. Guide
Cardinal Burns
Tuesday, E4, 10:30pm

Phil and Jase, two camp paranormal investigators, hunt down spooky goings on at Goswell House; Dustin faces humiliation at a casting for a TV commercial; and tension rises as New Guy installs a hot tub at Office Flirt HQ. Guide
The Ricky Gervais Show
Tuesday, E4, 11pm

Karl describes a typical day in his life, which includes spending time alone working on DIY projects. Guide
God Save The Queens
Thursday, Sky Atlantic, 8pm

Sky Atlantic's celebration of fabulously camp and pioneering entertainers continues with the stories of David Bowie, Jimmy Somerville, Kenny Everett and Boy George. Guide
Russell Howard's Good News
Thursday, BBC Three, 9pm

Russell Howard once again offers his distinctive take on what has happened in the world this week, with an energetic and entertaining look at the news stories that have dominated the media and caught his eye. Guide
Live At The Electric
Thursday, BBC Three, 9:30pm

This new series opened with a shockingly dreadful audience figure of just 411k last night. Will repeats, or Episode 2, fare any better? Is BBC Three dead? Guide
Horrible Histories
Friday, CBBC Channel, 5:30pm

In a special musical episode of the award winning Horrible Histories, host Rattus Rattus chooses his favourite songs from the fourth series to entertain his young nephew. Guide
A League Of Their Own
Friday, Sky1, 9pm

Yet another final episode as Corden and his team bow out with the final regular episode of the series. This week they're joined by Man City's Joe Hart and presenter Claudia Winkleman. Guide
Alan Carr's Summertime Specstacular
Friday, Channel 4, 9pm

Alan Carr has been left in charge of Channel 4 HQ and is set to throw the mother of all summer parties! Join Alan for the two hour extravaganza in various guises including sketches, entertaining and ridiculous games. Guide
Have I Got News For You
Friday, BBC One, 9:20pm

Kirsty Young makes her 11th appearance in the host chair. Writer, broadcaster and poker player Victoria Coren and Greg Davies, probably best known as Mr Gilbert in The Inbetweeners, are the guests. Guide
Episodes
Friday, BBC Two, 10pm

Sean meets Labia, a super-fan of Matt's and Morning suffers a major plastic surgery disaster. Meanwhile, Merc and Carol plan a weekend getaway to Mexico, while Jamie and Matt pack for a tryst in Napa. Guide
The Graham Norton Show
Friday, BBC One, 10:35pm

Together on Graham's sofa tonight: America's pop queen and ex-Mrs Russell Brand Katy Perry; top comic Ross Noble; and national sweetheart Cheryl Cole, who also performs Call My Name. Guide
Stand Up For The Week
Friday, Channel 4, 11:05pm

The team return to pick apart another week's headlines, including mainstream, subversive and obscure news stories. Guide

Above is just some of the new comedy that can be found on TV. For a complete list of shows, plus radio comedy, see our full schedule.
New DVDs
Horrible Histories - Series 1 - 3

This box set collects together the first three series of the smash-hit, multi-award-winning historically accurate childrens' sketch show Horrible Histories. Bound to keep almost any young one (and many older ones!) quiet and entertained for hours on end throughout the impending holiday period. Pre-Order
Don't Wait Up - Complete Series One & Two

Dr. Tom Latimer (Nigel Havers), an NHS GP, has split from his wife Helen who is finding various ways of taking him for all he's got. Meanwhile Tom's father Toby (Tony Britton), a conservative Harley Street consultant, announces that he intends to divorce Tom's mother after 32 years - both struggling, they move in together. But age and personalities could provide some conflict! Pre-Order
First Of The Summer Wine - Series Two

This double-disc set includes all 13-episodes from the second and final series of the Last Of The Summer Wine prequel, which finds the familiar LOTSW characters as youths in the early days of World War II. Pre-Order
Life Of Riley - Complete Box Set

This box set contains all three complete series of BBC One's family sitcom Life Of Riley, starring Neil Dudgeon and Caroline Quentin as the put-upon divorcees bringing their respective children together into one big and hopefully happy family. Pre-Order
The Arthur Haynes Show - Volume Three

Co-starring Just A Minute host Nicholas Parsons as the straight man, The Arthur Haynes Show was ITV's biggest hit by a country mile when it was produced, running more than a decade from the mid 1950s and only ending when Haynes died. Thanks to Network many new fans have discovered the show, and this is the first of another 3 DVD volumes to be released in the coming months. Order

For more, see our full list of new releases and DVDs coming soon.
Comedy Videos
Message Board Posts...
Here are some quotes from our message board...

"As a woman, I hate to agree with you but on the whole I do. Perhaps it has something to do with the nature of stand-up comedy - it is usually crude humour which is great but I think some woman can be considered vile if they are too coarse?" Mary Jane Thomas on female comedians

"Yeah, rather enjoyed it. Kane is funny. I liked the magazine sketch." zooo on Live At The Electric

"I'm enjoying this show, I think they're putting out a pretty respectable product here." Steve Sunshine discusses Very Important People

"I just got the Still Game box set yesterday. I have so far watched 5 episodes and think it's great." comical masterpiece on Still Game


Guide Spotlight
The House Of Windsor

Jubilee - what Jubilee? Ok, we're keeping with the general theme, but take a slightly back-handed look at royal life with this 1994 ITV sitcom. A satire based around the workings of Buckingham Palace, it showed PR guru Max Kelvin (ahem) brought in by Prince Charles to reform the monarchy's image. Unfortunately, despite staying topical by recording 48 hours before broadcast, the already secretive world of the palace just didn't lend itself that well to being lampooned in such a manner. The series wasn't a total wash-out, but you probably don't remember it - despite the great cast - for good reason... Guide
Thanks for Reading
That's all for this special Friday edition. Hope you have a great, relaxing long weekend, and we'll be back in your inbox on the 11th with lots of exciting features to read.



The British Comedy Guide


www.comedy.co.uk