Harry Hill working on a film & X Factor musical
Harry Hill working on a film & X Factor musical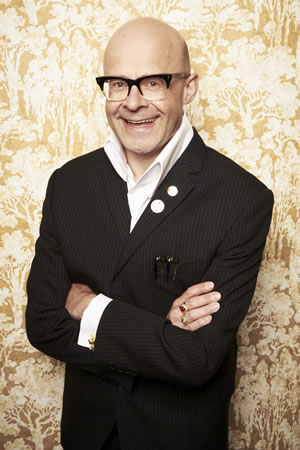 Harry Hill has confirmed he is currently writing X Factor - The Musical with writing partner Steve Brown. The show will be performed on the stage in the West End in the autumn of 2013.
In an interview with The Telegraph, the comedian revealed the genesis of the idea: "I was watching the last X Factor final, drunk, and thought it was a good idea."
Hill and Brown have since met with Simon Cowell, the creator of the ITV talent show, and Hill confirms: "He liked it, so we're doing it. It's like a TV Burp treatment, a celebration/piss-take, to get the lovers and haters in. It's not caustic, like Jerry Springer: The Opera. That would be quite an easy route to take, but we want it to be funny above everything."
Hill, real name Matthew Hall, is also currently working on a new film. He revealed: "It's partly a road trip, with a sick hamster and some badgers involved, plus some songs and guest appearances - the kind of thing I always do, but a bit longer and wider. I saw Pee-wee's Big Adventure recently, and I thought yes, there's something to aspire to."
The comedian parted ways earlier this year with his long-time agents Avalon over TV Burp, the TV show they produced with him. The comedian says he now feels "liberated, like a huge weight's been lifted".
Talking to reporter Stuart Husband, Hill said: "The thing with TV Burp was, it took over your life. You couldn't get researchers to watch everything because we had to spot the laughs." An example given was watching three hours of Emmerdale 'from which nothing useful would be gleaned.'
"It was a mixture of extreme boredom and extreme stress. The turnaround was pretty fierce - some of the runs lasted 26 weeks. They never let me do just eight shows, and if they had, I could have gone on till they carried me off."
New types of TV shows were also making TV Burp harder to make, Hill added: "You got this new, knowing breed of shows, like The Only Way Is Essex, where the jokes were already built in, and there was no leverage for us. Even Coronation Street became jokier. EastEnders was TV Burp fodder par excellence - it was made in a hurry and it took itself incredibly seriously. But we'd kind of exhausted it." Hill concluded: "I think, in the end, we just about avoided it going a bit shit."
Despite ending TV Burp, Hill is still busy. On top of the writing commitments, he is currently exhibiting art work at the Edinburgh Festival and has a stand-up tour scheduled for February and March next year. "Lots of new fans from TV Burp didn't know I was ever a stand-up," he added.
The comedian has also filmed a one-off show for Channel 4, as part of its forthcoming Funny Fortnight strand of programming. Whatever Happened To Harry Hill? is a sort-of reunion for his popular late-1990s sketch series on the channel. The programme is due to be broadcast on Thursday 23rd August.
Share this page