Wallace & Gromit to star in the BBC Proms
Wallace & Gromit to star in the BBC Proms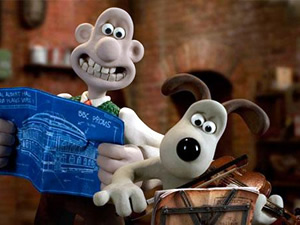 Wallace & Gromit, the Oscar winning comic creations of Aardman Animations, are to form part of this year's BBC Proms season.
The duo, created by Nick Park, will be the stars of this year's Children's Prom, following on from last year's highly successful edition which was devoted to the musical numbers from the hit CBBC sketch show Horrible Histories.
The event, named Prom 20: The Wallace & Gromit Prom: Musical Marvels! will feature new animated scenes featuring the cheese-loving inventor and his canine companion. The sketches will be accompanied by the classic music associated with the Proms, music which also appears in the original Wallace & Gromit programmes. Other pieces will include works by the composers John Adams, Claude Debussy and Dmitri Shostakovich.
The Prom will also include Wallace's own Proms commission, which is entitled My Concerto in Ee Lad, as well as a screening of A Matter Of Loaf And Death, the duo's 2008 adventure, with a live orchestral soundtrack as accompaniment.
In separate events on the same day, there will be the chance for the public to join the BBC's Family Orchestra and Chorus in creating its own Wallace & Gromit soundtrack.
The music will be performed by Aurora Orchestra, also seen at the Horrible Histories Prom, with solo violinist Tasmin Little. The conductor is Nicholas Collon.
The Wallace & Gromit Prom will be broadcast live on BBC Radio 3 on Sunday 29th July from 3:30pm, whilst The Family Orchestra and Chorus event take place first at 11am, and again at 1:30pm.
For more details and tickets visit the BBC Proms website
It is unconfirmed as to whether the Prom will be granted a TV broadcast, however the Horrible Histories Prom was shown on CBBC in September.
Share this page