RTS and Chortle award winners announced
RTS and Chortle award winners announced
Awards ceremonies took place last night for the 2012 awards of comedy website Chortle, and of the Royal Television Society.
At the RTS Programme Awards, held at London's Grosvenor House Hotel, 2011 comedic biopic Eric & Ernie, charting the early years of Morecambe & Wise, and Channel 4's comedy drama Fresh Meat, each picked up two prizes.
Meanwhile, comedy website Chortle's annual awards took place at Soho's Cafe De Paris. Winners included Susan Calman, Tim Key and Stewart Lee's Comedy Vehicle, whilst producer John Lloyd was given an Outstanding Contribution to Comedy gong.
The full list of comedy-related RTS winners is as follows:
Comedy Performance
Russell Tovey & Sarah Solemani - Him & Her (BBC Three)
Nominees: Darren Boyd (Spy); Tom Hollander (Rev.)
Scripted Comedy
Fresh Meat (Channel 4)
Nominees: PhoneShop; Rev.
Single Drama
Writer - Comedy
Sam Bain & Jesse Armstrong - Fresh Meat (Channel 4)
Nominees: Robert Popper (Friday Night Dinner); James Wood (Rev.)
Writer - Drama
Peter Bowker - Eric & Ernie (BBC Two)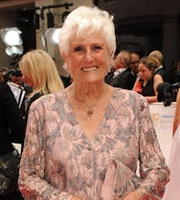 The society also gave a Lifetime Achievement Award to producer Beryl Vertue (pictured). Having started as an agent with Associated London Scripts in the 1950s, she worked with Ray Galton and Alan Simpson, Spike Milligan and Eric Sykes on films and television series, and with performers, as diverse as Frankie Howerd, Steptoe & Son, The Goon Show, Tony Hancock and Till Death Us Do Part.
She also devised the model of international format sales, and now in her 80s continues to work full-time, producing series and diverse as Sherlock and Men Behaving Badly, Upstairs Downstairs, Coupling, and Carrie & Barry.
Also announced last night were the winners of the Chortle Awards for 2012. The awards, focusing on the stand-up comedy market, are partially awarded by public vote from the judge-defined shortlist as follows (winners emboldened):
Best Newcomer
Mark Cooper-Jones
Mark Stephenson
Matt Rees
Patrick Cahill
Breakthrough Act
Adam Riches
Humphrey Ker
Sam Simmons
Tony Law
Club Comic
Adam Bloom
Alun Cochrane
Dana Alexander
Hal Cruttenden
Michael Fabbri
Compère
Jimmy McGhie
Ray Peacock
Toby Hadoke
Susan Calman
Character or Sketch Act
Adam Riches
Beta Males
Humphrey Ker
Idiots Of Ants
Variety and Music
Kunt & The Gang
La Soiree
New Art Club
The Rubberbandits
Best Show
Bring Me The Head Of Adam Riches
Doug Stanhope
Tim Key: Masterslut
Sam Simmons: Meanwhile
Best Tour
Dave Gorman's Powerpoint Presentation
Dylan Moran: Yeah, Yeah
Jerry Seinfeld's European tour
Mark Thomas: Walking The Wall
Stephen Merchant: Hello Ladies
Television
Charlie Brooker
Fresh Meat
Sorry, I've Got No Head
Stewart Lee's Comedy Vehicle
Radio
Danny Baker
The Infinite Monkey Cage
John Finnemore's Souvenir Programme
Party
Internet
Business Mouse (Channel 4's Comedy Blaps)
Do The Right Thing (British Comedy Guide)
The Fast Show (Foster's)
Richard Herring
Stand-Up DVD
Dylan Moran: Yeah, Yeah
Greg Davies: Firing Cheeseballs At A Dog
Stewart Lee's Comedy Vehicle - Series Two
Tim Minchin And The Heritage Orchestra Live At The Albert Hall
Innovation
Sanderson Jones for comedysale.com
Set List
Simon Munnery for La Concepta
The Wrestling
The website also named a series of 'best venues' across the country: The Comedy Store (London, purpose-built); 99 Club, Leicester Square (London, club); Komedia Brighton (The South); Komedia Bath (Wales and the West); Glee Birmingham (Midlands and the East); XS Malarkey (The North); The Pleasance (Scotland).
Mick Perrin, the stand-up agent and promoter whose clients include Simon Amstell, Eddie Izzard and Ross Noble, received an award for 'Offstage Contribution' to the industry.
Share this page