Chortle Legends Of Lockdown
Chortle Awards names Legends Of Lockdown
Fergus Craig, Mark Watson, Tim Key, Alex Horne, John Robertson, Marcus Brigstocke, Rachel Parris, Richard Herring and Robin Ince are amongst the Chortle Award winners
Stevie Martin, Alistair Green, Janey Godley, Mark Olver, Archie Henderson, Catherine Bohart, Toussaint Douglass and Munya Chawawa also won
Web formats Live At The Covid Arms, Isolation Song Contest and Petrichor were also picked out by readers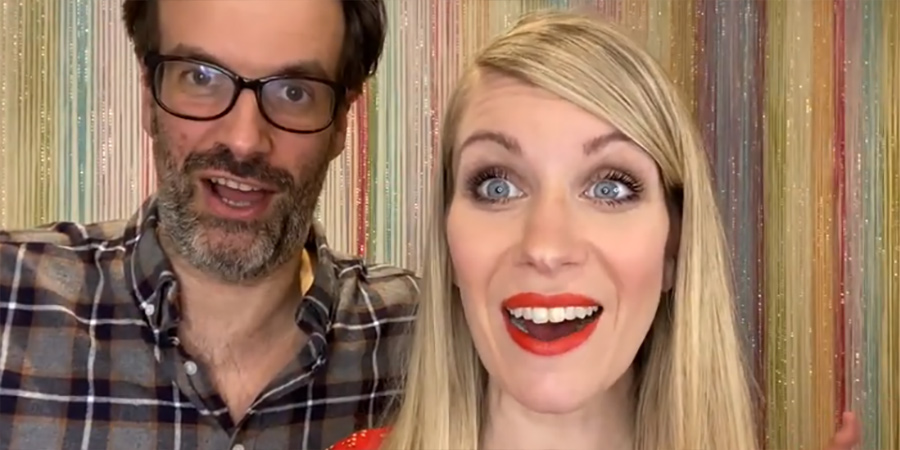 The winners of the Chortle Awards 2021 have been announced. With almost no live comedy gigs in 2020, the website this year asked its readers to name their 'legends of lockdown' instead of voting in its usual award categories.
The winners are:
Fergus Craig
Readers selected Fergus Craig for his online content, including his videos as character Martin Fishback.
Live At The Covid Arms
Online comedy format Live At The Covid Arms has raised £137,000 for food bank charity The Trussell Trust. Host Kiri Pritchard-McLean accepted the trophy:
Mark Watson
Mark Watson, Tim Key and Alex Horne's online show No More Jockeys was picked out as a highlight by readers. Watson was also praised for his 24-hour online gigs, and spearheading a series of drive-in gigs.
Alex Horne
Taskmaster creator Alex Horne's 'home tasking' challenges were much appreciated by Chortle's readers.
Tim Key
Aside from No More Jockeys, Tim Key was also selected for writing his book which chronicled his battles with lockdown.
John Robertson
John Robertson's Robbotron Twitch stream was described by one reader as keeping her family sane and giving them "an immense accounts of joy".
Marcus Brigstocke and Rachel Parris
Married comedians Marcus Brigstocke and Rachel Parris created Tuesday Night Club, hosted by Always Be Comedy.
Richard Herring
Readers selected Richard Herring for the wide range of free content he released online during lockdown.
Robin Ince and the Cosmic Shambles Network
"An incredibly prolific and varied range of content over the year" resulted in Robin Ince and the Cosmic Shambles Network collecting an award.
Stevie Martin
Chortle says of Stevie Martin: "Already a live favourite, the comic has upped her game during the shut-in, with video sketches made with Lola-Rose Maxwell, her improvised Book Club, podcasts and social media feeds all providing priceless entertainment."
Alistair Green
Comedian Alistair Green was recognised for his online videos.
Isolation Song Contest
Isolation Song Contest, the online alternative to the cancelled Eurovision Song Contest, organised by Tom Taylor, raised over £38,000 for charity.
Janey Godley
Janey Godley was picked for her social media activity, particularly her re-voicing of Nicola Sturgeon's Covid briefings.
Mark Olver
Stand-up comedian Mark Olver picked up a trophy for his Belly Laughs charity gig and presenting online panel show Who Said That?.
Jazz Emu
Chortle notes Archie Henderson, who makes videos as Jazz Emu, produced "a prodigious output of inventive, witty and trippily surreal music videos on YouTube and Twitter over the past year."
Catherine Bohart
Catherine Bohart picked up an award for her online gig format Gigless, "which has fostered a strong sense of a community among its regular audience".
Toussaint Douglass
Comedian Toussaint Douglass was chosen for the "daft sketches" he'd uploaded online.
Petrichor
Web series Petrichor, created by Will Farrell and Ben Rowse, and starring Alexander Owen and Adam Drake, was picked out by readers.
Rob Sedgebeer
Wifi Wars co-host Rob Sedgebeer was awarded a prize for "being the tech king of comedy."
Munya Chawawa
Comedian Munya Chawawa was one of the breakout stars of lockdown, thanks to the characters he performing on Instagram and YouTube.
The Warren, Brighton
Brighton-based The Warren erected an outdoor, socially-distanced venue on the beach, next to Brighton Pier.
Venue directors Nicky Haydn, Tom Arr-Jones and Josh Carr accepted the award:
---
Sam Bryant, from sponsors Audible, says: "Defying all the problems of lockdown, creative people have been doing brilliant work to keep the country entertained at a time when it's most needed, and they deserve recognition and support."
The Chortle awards page includes readers' quotes of praise for each winner.
Share this page