Louise Rennison winners 2020
Winners announced for Louise Rennison Award 2020
The Louise Rennison National Funny Award - the competition for 11 to 18 year-olds - winners are revealed
Rhys Heal and Rosie Parkin (pictured) were amongst the winners in the writing categories
Emily Sheehan and Robert Ebner-Statt were selected by judges in the Comedic Performance category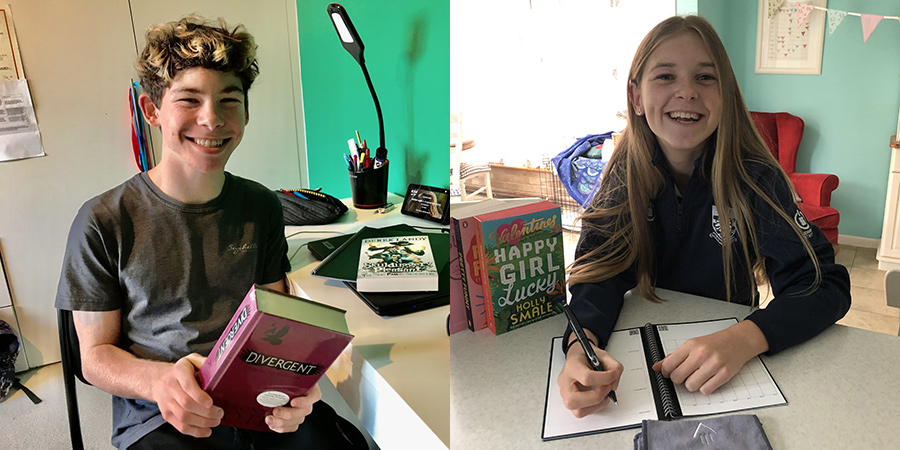 The winners of the Louise Rennison National Funny Award have been revealed. The competition aims to encourage 11 to 18 year-olds to create original comedy material.
The award, named in memory of late author and comedian Louise Rennison, was launched earlier this year, with young people encouraged to submitting up to 1,000 words (or three pages) of creative writing or a funny video performance of up to three minutes.
The winners are:
Comedic Writing (Individual, 11-14 years-old): Rhys Heal, from London for Rails: The Best Theme Park Ever.
Comedic Writing (Individual, 15-18 years-old): Rosie Parkin, from Dorset for Blasphemy.
Comedic Performance (Individual, 11-14 years-old): Emily Sheehan, from Staffordshire with The Beardy Quizmaster.
Comedic Performance (Individual, 15-18 years-old): Robert Ebner-Statt, from London with The News Today.
Comedic Writing (Group, 11-14 years-olds): Jen Mabbott and Kiki Peckham from Manchester, for Do It Yourself.
Comedic Writing (Group, 15-18 years-olds): Zach Shaw, Jameelah Faisal, Raymond Smith and Megan Jones from Leicester, for Lestah Lockdown.
The winners were selected by a panel of judges which included comedian and author Andi Osho; CBBC presenters Ben Shires, Lauren Layfield and Jonny Nelson; writer and author Mark Heywood; talent manager Kate Haldane; and director of Hay Children's Festival, Julia Eccleshare.
Sophie Severs, award founder and sister of Louise Rennison, says: "We wanted to create a competition that would inspire confidence in young adults and give them an opportunity to express their creative talents through comedy. Louise was passionate about young people having a voice and, she was dedicated to empowering young adults through her much beloved books.
"We were thrilled to receive so many genuinely funny and creative entries - that definitely had our panel of judges in stitches!"
Sophie continues: "During a difficult year for the country, it's been so inspiring to see the young people of Britain showcase their comedy skills in fresh and inventive ways. We know Louise would have found all the entries utterly hilarious and it was so hard to select the overall winners. It's fair to say the future of comedy in Britain is in good hands - with a bright future ahead for all the award entrants."
Winners of the comedic performance award now get the chance to develop their sketches further through an online comedy workshop experience with youth theatre group Freedom Studious; with winners of the writing award joining an online comedy workshop with writer and creative director of Ink Jockey, Mark Heywood.
Individual winners will also get the chance to meet their comedy heroes and go back stage at a live performance, thanks to PBJ Live. All finalists and runners up receiving books from Harper Collins, Penguin and Rocketbook too.
To watch and read all the winning entries visit louiserennisonnationalfunnyaward.com
Share this page