Alan Partridge statue
Alan Partridge statue erected in Norwich
A statue of Alan Partridge has been erected outside The Forum shopping centre in Norwich
It has been created by freelance sculptors Nick Dutton and Gavin Fulcher in their spare time
The statue is due to be removed on Sunday, but fans are calling for it to become a permanent fixture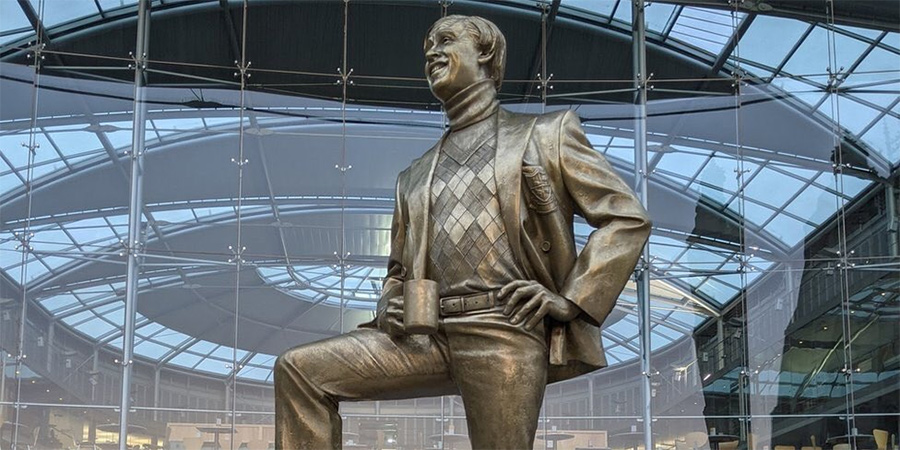 A temporary statue of Alan Partridge has been erected outside a shopping centre in Norwich.
It has been created by Nick Dutton and Gavin Fulcher, fans of Steve Coogan's character who are self-employed sculptors in the film industry.
The unveiling of the statue comes soon after the recent launch of From The Oasthouse: The Alan Partridge Podcast, which Coogan recorded for Audible. The statue's creators deny the statue is a publicity stunt for the show though, explaining they created the brass statue over the last three years, between their work commitments.
Fulcher told BBC News: "It was just a bit of fun really. I think during this time we could all do with a bit of light relief."
See tweet
A series of messages have appeared on the character's Twitter account, to endorse the statue. They read:
A STATEMENT.

Although this is completely unauthorised, having taken counsel, I am happy that the statue's attitude and stance are correct.

I was further concerned the statue would be a compound resin with gold paint applied. These fears have also been allayed.

If the people of Norwich and surrounding areas want to memorialise me in sculpture, then as long as it is rendered in alpha brass with a low zinc content and not, say, a duplex brass, I grant my consent and will instruct my legal team to resheathe their daggers.

If my statue can in some way act as an Ambassador for Brass, and encourage just ten children to take up a brass instrument, it will be an upbeat ending to an otherwise dreadful year.

Thank you.

STATEMENT ENDS.

Alan Partridge
DBNR
The life-size statue - standing atop a plinth, totalling 11 feet - is due to remain outside The Forum shopping centre until Sunday, although a number of fans on social media are calling for it to be made a permanent fixture.
The below video (which has no sound) shows the statue being created:
---
For updates, click the button below.
Share this page