Comedy Lab 2011 line-up announced
Comedy Lab 2011 line-up announced
The six comedies taking part in Channel 4's 2011 Comedy Lab season have now been officially announced. There's sketch shows from Anna and Katy and Totally Tom, sitcoms about political correctness, a failed comedian and the South Asian sport Kabaddi, and a live studio comedy from comedy trio Pappy's.
Comedy Lab has been running on Channel 4 for a number of years now, with Peter Kay, Russell Brand and Jimmy Carr amongst the stars who piloted shows through the system before they became famous. Comedy Commissioner Nerys Evans says: "Comedy Labs are an amazing spawning ground for future household names, giving their first TV breaks to a host of exciting new talent, both performers and writers. This year's alumni is a fantastically diverse collection of comedy talent.'
The six shows making up the line-up are:
---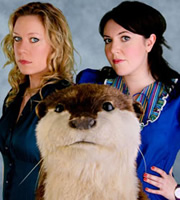 Anna And Katy
A sketch show from double act Anna Crilly (Magda in Lead Balloon) and Katy Wix (Daisy in Not Going Out). They bring their unique brand of character comedy to a self-titled one off sketch show.
With special guest appearances from Lee Mack amongst others, Anna And Katy introduces us to the biggest soap opera in Germany, daytime TV show Congratulation! and Eamonn Holmes' latest game show Pointer amongst a range of silly characters.
---
A sketch show written and performed by live comedy circuit double-act Tom Palmer and Tom Stourton. Set in the hours of darkness and in a non-specific metropolis, the unique and sometimes macabre world of Totally Tom is inhabited by an array of characters - some relatively normal - and some bordering on the grotesque. During our visit we meet a bitchy pair of cocaine fuelled 'posh girls', a cop with an over-imaginative sense of drama, a pair of Scottish brothers locked in a cycle of poverty, and we also see an edgy new teen-drama set in the Hitler Youth.
---
A sitcom written by newcomer Nikesh Shukla about Bobby, a loveable dreamer with high hopes and no prospects. Bobby and his best mate Vin, a thug with a heart, decide that their best shot at redemption is to set up the world's first all white English Kabaddi team.
With a makeshift team and no idea of the rules, Bobby realises they need help. They find it in the shape of The Marauding Moustache, a legend in the East London League and a cross between Mr Miyagi and Homer Simpson.
---
A comedy gameshow featuring the award-winning comedy sketch group Pappy's. This all singing, all dancing show is based on a 1950's style beauty pageant where the entire studio audience has the opportunity to be crowned the winner. However, this isn't your usual beauty pageant or Miss World - this is the alternative version and this show is all about objectification through obscure games, through weird and wonderful skills and generally looking a bit odd. So if you've got a sexy armpit, outstandingly impressive nostrils, or an overwhelming body odour you could win!
---
Sitcom starring up-and-coming comic Tom Davis (The Morgana Show) as Ian Bodkin, a struggling studio warm up comedian and self deluded 'wally' who thinks he is a superstar in the making. Ian Bodkin is a loveable but completely delusional dreamer who is on the lowest step of the entertainment ladder, but in his child-like world he is the biggest talent out there, and is constantly on the cusp of his big television break.
---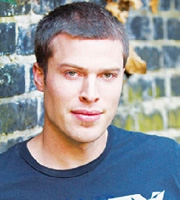 Rick And Peter
Sitcom pilot written by Tom Basden (Cowards; Radio 4's Party). It stars Channel 4 presenter Rick Edwards and Peter Mitchell (from disability comedy drama Cast Offs), as caricatures of themselves; an odd couple thrown together after Rick makes a regrettable gag on T4 and is put on a crash course in how to be more politically correct. Rick and Peter delivers a satirical take on the self-important and pumped up world of TV presenting.
---
The 2011 Comedy Lab season is expected to be broadcast in late August or early September.
Share this page