Sitcom Mission 2011 winners announced
Sitcom Mission 2011 winners announced
---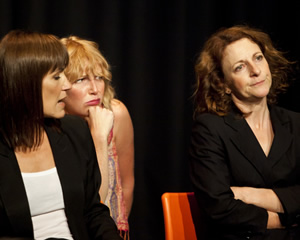 The Sitcom Mission 2011, the highly respected comedy writing competition and live sitcom showcase, has been won by writers Abigail Dooley and Emma Edwards. Their sitcom - What Next? - follows the lives of three sisters: mother Lauren, control freak Anne and flakier-than-filo Saskia.
The writing duo have been awarded a half hour script commission from veteran producers Hat Trick Productions.
The pilot episode of What's Next?, which was showcased at the Sitcom Mission final at The New Diorama Theatre in London tonight alongside four other comedies, focused on Lauren's attempts to reinvent herself and get a job. Directed by the National Theatre's Cal McCrystal, What Next? starred Joy Merriman as Lauren, Carla Mendonca as Anne, Kate Rawson as Saskia (pictured); Toby Park as osteopath Byron, and Richard Thomson as camp shop assistant TinTin.
The other sitcoms in the final were Ciaran Murtagh and Andrew Jones's In The Meantime, a sitcom set in 1498 following the crew of HMS Lillyliver; The Regulators, a comedy set around EU politicians, written by Falko Rademacher from Berlin; Russell Obeney's sitcom about football fans, The Box; and Eye Captain, a sitcom set in the control tower of a small airport, created by first-time writer Matthew Comras.

The competition was judged by Sky's Head of Comedy Lucy Lumsden; Creative Head of BBC Comedy Anne Gilchrist; ITV Comedy Commissioner Claire Zolkwer; Comedy Central's Chris Collie; and Outnumbered writer and director Andy Hamilton.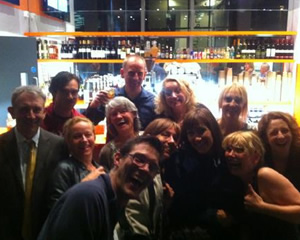 Dooley and Edwards have been writing together for the last couple of years. They said: "Everyone involved in What Next? is absolutely delighted to have won. Our experience of The Sitcom Mission has been a fantastic learning curve from start to nail-biting finish. It has been great taking the script from page to stage and we would like to thank our director and cast for bringing the show to life so brilliantly. We are also indebted to producers Declan and Simon for their unstinting hard work, commitment and invaluable support. We are thrilled to have an opportunity to work with the legendary Hat Trick, and would like to thank them for their continued support of new writing."
Formed in 2008 by producers Declan Hill and Simon Wright as a launchpad for writers, actors and directors entering the sitcom world, The Sitcom Mission aims to take situation comedy back to its roots - live theatre. This year's competition attracted more than 1200 entries, which was whittled down to a longlist of the 32 best scripts - 8 of which went through to the final showcase stages.
Hill and Wright comment: "We're absolutely delighted with our Grand Final five, and want to congratulate Abigail Dooley and Emma Edwards for their fantastic winning entry What Next? We'd also like to thank everyone who took part in the Sitcom Mission 2011 - the 1200 writers who put pen to paper to make the whole thing happen, the script editors, directors, actors and the guys at the New Diorama Theatre. Most of all we'd like to thank all at Hat Trick Productions - Jimmy Mulville for his vision and faith, Anna Silver and Angela Sinden for their wise eyes and even wiser words, and the brilliant and inspirational Claire Broughton for her enthusiasm and boundless energy."
The Best Actress award went to Joy Merriman for her role in What Next?, whilst Best Actor was picked up by Stephen Harvey for taking on the central role of imbecilic captain Horatio in sitcom In the Meantime.
What Next? will now go into further development with Hat Trick Productions.
The Sitcom Mission will return in 2012, with the call for scripts expected towards the end of the year.
To find out more about the competition and read more about the five sitcoms which took part in the final, and the writers and directors behind the shows, see the Sitcom Mission website
Share this page