Russell Kane wins Edinburgh Comedy Award
Russell Kane wins Edinburgh Comedy Award
The results of the prestigious 2010 Edinburgh Comedy Awards - previously known as the Perrier Awards - have been announced at a ceremony hosted by Al Murray.
Russell Kane's Smokescreens and Castles has won the £10,000 Best Show cash prize. It's third time lucky for Kane, who has been nominated for the award the previous two years too.
Kane told BBC Scotland: "It is about the council house I grew up in - The Castle. I go room by room and explore my childhood home. The previous shows were about big ideas. This year's show was really personal. I thought it was really simple but sometimes when you boil it all down gems start to appear. I really enjoyed doing it."
The comedian phoned his mother after his win and told her to run around the estate and tell everyone, but his own celebrations will have to wait until after the weekend as he still has a couple of shows to go and is appearing at Reading Festival on Sunday.
Also today, Roisin Conaty has been named Best Newcomer for her show Hero, Warrior, Fireman, Liar; and American teenage musical comedian Bo Burnham has been awarded the Panel Prize for choosing to come to the Fringe rather than "monetising his vast YouTube audience."
Commenting on the awards, producer Nica Burns said: "Russell Kane takes the audience by storm with his boundless energy and enthusiasm. An extremely funny show from a very talented comic. It took a very impassioned, intense debate to select the nominees from an extremely strong and diverse long-list. I'm sure that many of the nominees will be household names in years to come. What a vintage year for the first Foster's comedy winners and nominees!'"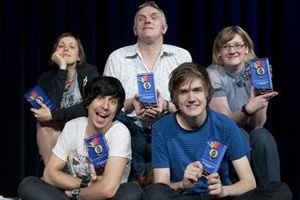 Josie Long, Greg Davies, Sarah Millican and Bo Burnham were the other comics in the running for the Best Comedy Show accolade, whilst Imran Yusuf, Asher Treleaven, Gareth Richards, The Boy With The Tape on His Face and sketch group Late Night Gimp Fight were on the newcomers shortlist.
Established in 1981 as the Perrier Awards, the Edinburgh Comedy Awards as they are now known are the prestigious acoloades every festival act is looking to win. The awards have previously been won by comedians including Al Murray, The League Of Gentlemen, Lee Evans, Steve Coogan and Frank Skinner. The 2009 winner was Tim Key, with Jonny Sweet named Best Newcomer.
It should be noted that not every act is eligible to win the award - the rules state that comedians considered to have 'star' status (this is defined as any act who has starred in a television comedy or light entertainment series on terrestrial television or regularly fills a 500-plus seat venue) are excluded from being shortlisted.
Organised by producer Nica Burns, the 2010 judging panel was made up of Daily Telegraph journalist Dominic Cavendish; Sunday Times critic Stphen Armstrong; Channel 4's Nerys Evans; Festival Republic promotor Tania Harrison; Guardian critic Paul MacInnes; the Melbourne Comedy Festival's Susan Provan; BBC Comedy's Alison Vernon-Smith; and three members of the public who this year were Joseph Beckett, Greg Jennings and Joanne Rutherford.
To find out more about the winners, see our listings which feature details on the shows and also links to all the main reviews the shows have received:
Best Show: Russell Kane: Smokescreens and Castles
Newcomer: Roisin Conaty: Hero, Warrior, Fireman, Liar
Panel Prize: Bo Burnham: Words, Words, Words
Here is a video of Al Murray and last year's winner Tim Key announcing the main prize:
To find out more about the awards and their history visit www.comedyawards.co.uk
Share this page