Lost Frankie Howerd and '1948 Show' episodes recovered
Lost Frankie Howerd and '1948 Show' episodes recovered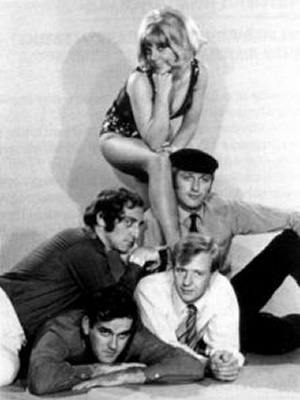 Comedy sketches featuring John Cleese, Graham Chapman, Marty Feldman and Frankie Howerd have come to light after being missing for over 40 years.
The black & white footage, which dates from the 1960s, was handed over to the British Film Institute as part of its ongoing campaign to plug gaps in the British TV archives.
Dick Fiddy, TV consultant at the BFI, says that a private collector is to thank for the recovery of a missing edition of At Last The 1948 Show (pictured), one of the sketch shows that lead almost directly to the creation of Monty Python's Flying Circus; and also for the recovery of an absent episode of Frankie Howerd, the stand-up, sketch show and sitcom vehicle for its namesake star.
Fiddy explains: "Recently, a private collector contacted the BFI's Missing Believed Wiped project and handed over two priceless missing items of 1960s TV comedy. It's good news all round with these finds - they feature some of the UK's finest clowns at their peak and are pure comedy gold dust. Frankie Howerd, for example, not only features more rare Frankie stuff but boasts a script from Ray Galton and Alan Simpson and - particularly precious - the great Yootha Joyce hamming it up as a tipsy vamp trying to have her way with the aghast Frankie."
Until the late 1970s, broadcasters regularly wiped TV shows to re-use expensive video tape and save space in their archives - a policy which both these newly-recovered shows were casualties of.
All but two episodes of At Last The 1948 Show were destroyed in the late 1960s - a show now considered very important in British comedy history as its stars included John Cleese, Marty Feldman, Graham Chapman and Tim Brooke-Taylor, all of whom would go on to be huge stars. Similarly, the BBC wiped the entire first series of Frankie Howerd shortly after its broadcast ended in January 1965; the second series, broadcast in 1966, survives in full. British Comedy Guide understands that the recovered Frankie Howerd episode is the final of the first series, broadcast on Friday 15th January 1965.
The BFI, in conjunction with key partner organisations including classic TV organisation Kaleidoscope, has done much to undo the damage. Mr Fiddy said: "The 1948 Show episode plugs yet another gap in what has become the most successful rebuilding project of the entire Missing Believed Wiped initiative. Material has come back from Sweden, Australia, industry personnel and private collectors to rebuild the once-thought-lost programme. This latest retrieval is a near-complete episode which can be restored with the help of an existing clip of one of the two missing sketches and an audio recording of the other."
Both items will be shown later this year at a Missing Believed Wiped special event at BFI Southbank.
Share this page