The IT Crowd heads up Channel 4's spring comedy slate
The IT Crowd heads up Channel 4's spring comedy slate
---
Here's a full run down of all the major comedy shows that will be on Channel 4 this spring 2010...
Facejacker (April)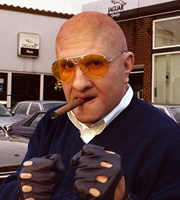 A new Fonejacker spin-off. BAFTA-winning star Kayvan Novak returns with his familiar characters, but this time he's disguised with prostehtics. For the first time he will be up close and personal with the public, rather than on the end of a phone.
In Facejacker, Novak plays a mix of existing characters like Terry Tibbs (pictured), and brand new faces, including charlatan art critic Brian Badonde, and Dr Ali, formerly Saddam Hussein's plastic surgeon of choice. See our guide for a link to the trailer.
Comedy Roasts (April)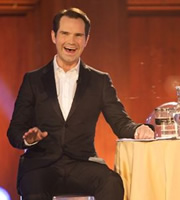 Jimmy Carr brings the grand US tradition of the 'comedy roast' to the UK. The idea is a simple one: a group of people called 'roastmasters' gather together in front of a live audience to make fun of a subject and celebrate all that is good about the 'roastee'.
A Comedy Roast will be 'honouring' three bastions of British entertainment: Bruce Forsyth, Sharon Osbourne and Chris Tarrant. Stand-up performers will include Sean Lock and Jack Dee.
Channel 4's Comedy Gala (April)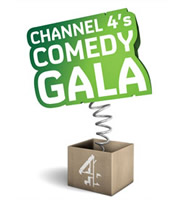 This is being billed as the biggest live stand-up show in UK history. Over 20 of the country's top stand-ups will be performing on the one bill at the 02 Arena to support Great Ormond Street Hospital, and Channel 4 will be presenting a two-hour highlights special in April.
The amazing line-up includes Alan Carr, Bill Bailey, David Mitchell, Jack Dee, Jason Manford, Jo Brand, Jonathan Ross, Lee Evans, Michael McIntyre, Noel Fielding, Omid Djalili, Rob Brydon, Ruth Jones and Sean Lock.
The Ricky Gervais Show (April)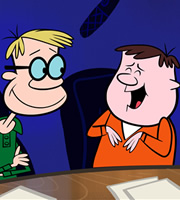 A UK broadcast for the US animated comedy series based on the rambling thoughts of Ricky Gervais, Stephen Merchant and Karl Pilkington.
The animations are based on Gervais's much loved podcasts, which have earned a spot in the Guinness Book of World Records for the most downloads.
You Have Been Watching (April)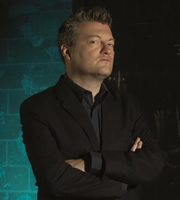 The first series of Charlie Brooker's panel show was big hit for Channel 4 last year. As a result, it's no surprise to learn that it will be back on the channel this April for a second series.
Once again, each week, Charlie and some famous and funny guests will be offering their interpretation on the curious, wonderful and often inglorious world of television.
Comedy Lab 2010 (April)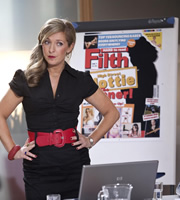 Channel 4 will be trying out a total of seven sketch show and sitcom pilots in the 2010 version of its Comedy Lab strand.
The shows in this year's Comedy Lab offering are: Filth, Happy Finish, Hung Out, iCandy, MovieMash, Penelope Princess Of Pets, and The Secret Census. Stars taking part include James Buckley from The Inbetweeners, Kristen Schaal from Flight of the Conchords; Julian Barratt from The Mighty Boosh; and stand-up star Jack Whitehall.
Click the link below for more details on all seven of the shows.
Bremner, Bird & Fortune (May)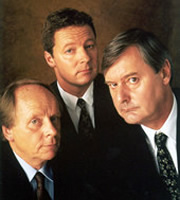 Channel 4 will be bringing out its big satirical guns as the country votes this May in the General Election. Rory Bremner and his long-term collaborators John Bird and John Fortune will be presenting The Daily Election Show in the three days leading up to the big vote.
These daily specials, recorded on the day of transmission, will see the legendary satirists giving their own cutting, comic take on the election as it builds to its climax. The election has yet to be announced, but Channel 4 are currently planning the transmissions based on the assumption we will be voting for a new Prime Minister on the 6th of May.
Alan Carr: Chatty Man (June)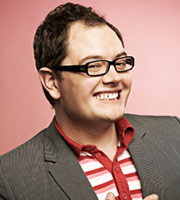 Alan Carr's chat show - currently on air on Thursday nights - has been pulling in some great ratings for Channel 4 recently, so perhaps little surprise that the network has already confirmed a 4th series for this summer.
Expect more sketches, topical chat, news and audience participation. As in previous series, Alan will be joined on the sofa each week by three celebrity guests from the world of showbiz, with a top musical act playing out at the end of the show.
The IT Crowd (June)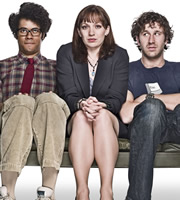 The much-anticipated 4th series of Graham Linehan's BAFTA award-winning sitcom hits screens this June.
Jen is looking for new challenges and applies to be the Entertainment Officer, Moss beats all records on a popular spelling show and Roy spends a disproportionate amount of time trying to convince an old friend that he is not a window cleaner. Inevitably, there's naked aerobics, bunking off work, marriages and divorces.
---

Also this season, Channel 4 will be showing a refreshed and updated version of its The 100 Greatest Stand-Ups countdown programme, and E4 sketch show School Of Comedy comes to Channel 4 for a repeat run.
Share this page