American network NBC orders How Not To Live Your Life pilot
American network NBC orders How Not To Live Your Life pilot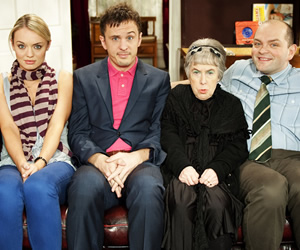 American Network NBC has ordered a pilot script of Dan Clark's BBC Three sitcom How Not To Live Your Life.
How Not To Live Your Life has now run for two series on BBC Three, and will return for a third series in September 2010. It focuses around the life of Don, a neurotic single twenty-something failing to navigate his way through the very basics of life. The comedy's trademark signature is fantasy sequences in which Don imagines various scenarios.
Clark is to co-write the new pilot script for the American network early next year, with production company Brown Eyed Boy expected to take on a co-producing role.
This will be How Not To Live Your Life's second pilot in the States. Two years ago CBS worked on a pilot of the show, but it never made it to series. When we interviewed Dan Clark earlier in the year, the writer and star said: "We had it with CBS for a while, but we just couldn't agree on the way it was going. When the option ran out, they wanted to extend it, but we actually decided to back off and try and develop it elsewhere. They were trying to change too much. For example, it wasn't going to be set in the old woman's house and there was no Eddie, and we kept saying 'but Eddie is a very popular character back home, you're changing the show a bit too much, these aren't tweaks'. So now we're back to developing it elsewhere and I think we've got a team of people who 'get' the show a bit better."
Share this page