America to pilot HIGNFY
America to pilot HIGNFY
---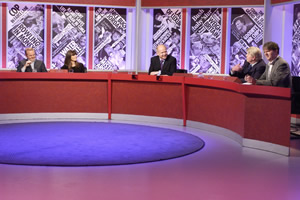 Jimmy Mulville, the boss of independent production company Hat Trick, has revealed via Twitter that his company is working on piloting Have I Got News For You in America.
Mulville posted the following message on the social networking website: "Off to New York today to cast the pilot of an American version of Have I Got News For You. Any ideas gratefully received."
Unlike the UK where it is one of the most prevalent and popular forms of TV comedy, the panel show format is currently almost non-existant in the US. Topical satire on American TV is more commonly delivered in a scripted format via programmes like The Daily Show. Thus, it remains to be seen whether HIGNFY will work in the States. It should be noted Hat Trick does have some experience of exporting formats - in the 1990s they exported Whose Line Is It Anyway?, which became a big hit for the ABC network.
The UK version of Have I Got News For You returns to BBC1 on the 16th October 2009. Free Tickets
Share this page