Tim Key wins 2009 Edinburgh Comedy Award
Tim Key wins 2009 Edinburgh Comedy Award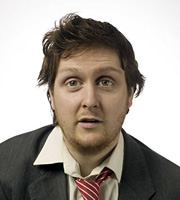 Tim Key has won the main 2009 Edinburgh Comedy Award (previously known as the if.comedy award; and Perrier Award) for his show "The Slutcracker". The comic and poet beat tough competition from Idiots of Ants, John Bishop, Jon Richardson, Russell Kane and Tom Wrigglesworth to claim the prestigious prize from the judges.
Key is perhaps best known to TV and radio audiences as part of sketch group Cowards; as the question master in BBC Four panel game We Need Answers; and as the 'resident poet' on both Charlie Brooker's Screenwipe and Mark Watson's radio show. Key also has written and starred in three series of the critically acclaimed Radio 4 comedy drama All Bar Luke, in which he plays social loser and lone voice of the show, Luke Walsall.
The comic describes his Edinburgh show as "a string of about 15 poems connected together with lots of bits and pieces for variety." Key, 32, who performed a show two years ago called Slut in a Hut, says he has now decided that 'Slut' is a good brand for his comedy. "The poems are about death, sex and dew", he says. "There is a lot of sex. I would not say I distance myself completely from the slut tag. Two years ago it was more slutty. This time it is more charming sluttiness." Key, originally from Cambridge, insists the poems are not from personal experience. "They are frivolous, stupid poems mainly," he says. A former member of the Cambridge Footlights, Key has been performing at the Fringe since 2001.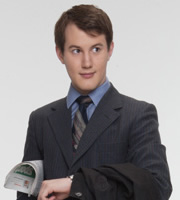 Jonny Sweet, who is due to star in When Boris met Dave, a More 4 drama about the university years of the Conservative Party leader David Cameron, was named Best Newcomer at today's lunchtime ceremony, which was hosted by Frank Skinner. Meanwhile the 2009 Panel Prize was awarded to Peter Buckley Hill for his work in organising The Peter Buckley Hill Free Fringe.
Over 400 of this year's Edinburgh Festival Fringe shows were scrutinised by a panel of six judges and four comedy punters. The judges were Time Out Magazine's Tim Arthur; Tania Harrison from Festival Republic; the Guardian's Paul MacGinnes; Dominic Maxwell from The Times; UKTV commissioner Joff Powell; Radio 4's Caroline Raphael; and competition winners Niki Di Palma, Ross Stark, Jason Stone and Jo Williams.
Tim Key wins a cash prize of £8,000 and an invitation to perform at the Montreal, Toronto and Chicago Just for Laughs Comedy Festivals; whilst Jonny Sweet and Peter Buckley Hill win cash prizes of £4,000. This year's awards were financed by organiser Nica Burns after it was not possible to find a new sponsor. It is believed Burns has spent about £120,000 of her own money this year to keep the prize going without business backing.
The first Edinburgh comedy award was made in 1981 to a Cambridge Footlights cast which included Stephen Fry and Hugh Laurie. Other comedians who have won the main prize, known for many years as The Perrier Award, are Jeremy Hardy, Sean Hughes, Steve Coogan, Lee Evans, Jenny Eclair, Dylan Moran, The League Of Gentlemen, Al Murray, Daniel Kitson, Laura Solon, Brendon Burns and David O'Doherty. This year's host, Frank Skinner, won the award in 1991.
Share this page