BBC confirms plans to end all-male panel show line-ups
BBC confirms plans to end all-male panel show line-ups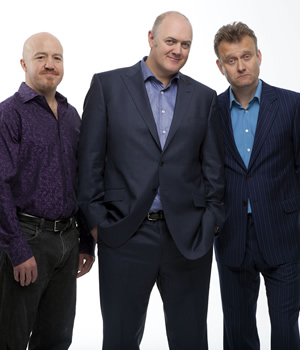 Danny Cohen, the head of BBC television, has confirmed that the BBC will no longer allow panel shows featuring all-male line-ups.
Speaking to The Observer, he said: "We're not going to have any more panel shows with no women on them. You can't do that. It's not acceptable."
As reported in December, the BBC Trust has set senior management new gender representation objectives, with producers told that there is now "no excuse" for not having women guests on comedy panel shows.
Speaking in December, BBC executive Mark Linsey, who is working on the project, commented: "Comedy panel shows are always better for having a good mix of people and of course that must include women. I'm making it clear to production teams that there's just no excuse for delivering all male guest lists."
A number of BBC shows have been criticised in the past for broadcasting episodes in which there are no female guests. Topical BBC Two show Mock The Week (pictured) is regularly mentioned in this regard. The show has always had an all-male regular line-up, and BCG's episode guides show the last run of the show - Series 12 - had 38 guest spots, of which only 5 were filled by females. Katherine Ryan and Holly Walsh appeared twice each, and Ava Vidal appeared once.
Today's interview confirms Danny Cohen's intention to follow-through with the plans. A BBC spokesman told the newspaper that it shouldn't be long before there is a noticeable change: "There may be very rare occasions where shows that were already recorded - or whose panels were already booked ahead of the order - still have all-male line-ups, but hopefully the change should really become apparent."
There is support on Twitter for the move with, for example, Katy Brand posting: "Finally! Thank you, Danny Cohen". However, to some, the plan does not go far enough. Comedy writer James Kettle commented: "Glad to see Mock The Week can carry on booking one woman out of seven performance spaces per show. They've never ever booked two."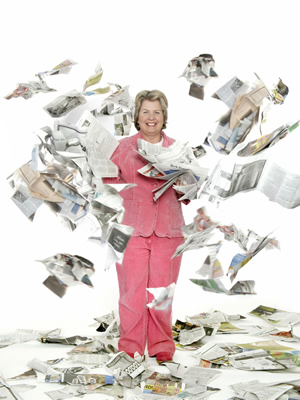 Radio 4 has a better track record of booking female comedians, and its roster of panel shows include the likes of The News Quiz hosted by Sandi Toksvig (pictured). Writing on his blog, Ed Morrish who produced The News Quiz for several series and is now overseeing Dilemma hosted by Sue Perkins, explained the importance of balancing genders: "When we started making Dilemma, a show where moral and/or ethical dilemmas are played for laughs - the idea of a diverse panel was central to the show working. If all four guests are the same age / ethnicity / gender / occupation, their moral choices are more likely to be similar, surely?"
He adds later in his blog: "The last thing to bear in mind on this point is that one woman on a panel show can be quite isolated; she can be seen as "the woman", a representative of ALL women. So we try to have two on each show as that immediately puts an adjective in front of each one."
Bruce Dessau, writing on Beyond The Joke, is not so sure about the BBC's stance: "Although in theory this is fantastic and long overdue news, I'm not sure if I feel completely comfortable with it. I would like to see the funniest comedy panel shows, not the most gender-equal comedy panel shows."
He adds later in his piece: "The BBC has made this decision in response to recommendations from governing body the BBC Trust and it sounds a little like political correctness gone slightly daft. Apparently the current percentage of women on panel shows is about 10%, which is not far off the number of women on the comedy circuit (though that it increasing). The best thing about this announcement is that it might mean we see some new faces on our TV screens. The fact that they might be women is almost incidental to me."
Producer Charlie Hanson, messaging BCG on Twitter this morning about the BBC's statement, commented: "It's taken them long enough, but welcome. More cultural diversity too please!"
Responses from comedy fans have been varied. One @UKComedyNews follower replied: "So we are going to see the same women over and over again? How is that progress. It's bad enough with the men."
Another comedy fan made the comment: "So long as people are there on merit rather than to satisfy some diversity quota then it should be a good thing."
Whilst other responses included "But surely that'll just encourage the 'token female'? I'm all for more women in comedy. But attitudes should be changed." and "Shouldn't need to ban it. There's plenty of funny women who would be there on merit."
The BBC's current TV panel show formats include Mock The Week, QI, Would I Lie To You?, Never Mind The Buzzcocks and Have I Got News For You.
Share this page