Veteran comedy writer Vince Powell dies
Veteran comedy writer Vince Powell dies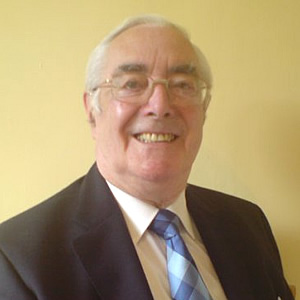 British comedy writer Vince Powell passed away this morning at Royal Surrey Hospital. He was 80. British Comedy Guide pays tribute...
A prolific creator of sitcoms from the early days of mass-audience television right through to the early 1990s, Vince Powell's extensive career is guaranteed to have had you laughing on more than a couple of occasions. His extensive list of comedy credits includes the shows Love Thy Neighbour, Bless This House, Nearest And Dearest and Never The Twain.
Born Vincent Smith on the 6th of August 1928 to a working class, Catholic family in the Manchester suburb of Miles Platting, Vince was an only child, although surrounded by a close community and many other family members. They would be of great support when, in September 1933, his mother, aged only 33 herself, died suddenly. His loving father, a tailor, re-married two years later to Frances, the sister of one of his closest friends from his time serving in the Manchester Regiment during World War I, Michael Hennessy.
From the earliest days of his youth, Vince had had an interest in comedy, in laughter, and of the stage. Indeed, he found himself all but expelled from St. Bede's Catholic College after being caught playing truant in order to visit a local theatre and take in many of the comedy and variety acts who visited - from Jewell and Warriss to George Formby and Gracie Fields. His passion at this time was not, it should be noted, that of an unseen writer, but of a much-loved performer delighting audiences himself.
Finding initial success as a performer alongside a friend, Kevin O'Flaherty - who he had met whilst an apprentice in an engineering works manufacturing parts for tank engines, of all things - he later set out to form a double act proper, placing an advert for an 'experienced straight man to form a comedy double act' in a local newsagent's window. It was through this that Vince first met his long-time comedy partner, Harry Driver, who was at the time already married with a three year old son.
However, their performing partnership came to an abrupt end in 1955, when Harry contracted the polio virus and after 18 months in hospital was paralysed from the neck down. However, this certainly did not stop their professional association. It was at this point that they found themselves turning to writing earnestly, although little success was found until 1960 when their work helped propel a hitherto little-known performer by the name of Harry Worth to national stardom.
From there, work barely stopped. The two's credits included Coronation Street (and its sitcom spinoff Pardon The Expression); Adam Adamant Lives!; the Sid James, John Le Mesurier and Peggy Mount hit George And The Dragon; Nearest And Dearest; Two In Clover (another James show, inspired not just in part by Vince's evacuation to Clover Farm during World War II); For The Love Of Ada; and the Jewish-Catholic culture-clash sitcom Never Mind The Quality, Feel The Width, again from Vince's own experience as a tailor.
One of the duo's most notable credits, again, starred the great Sid James, with Thames Television's 1971-1976 hit Bless This House. By now under a 2-year exclusive contract to Thames (earning the impressive sum of £25,000 pa each) with the duty of comedy advisers, script editors, and writer/creators of 13 sitcoms per year, Vince and Harry were two of the most prolific writers in the business.
However, in late 1973, just a few episodes into penning a new series of Love Thy Neighbour, another notable hit for the Powell & Driver writing team, Harry died, a victim of the weakened lungs which the polio had left him with 16 years earlier. Vince took over Harry's half of their Thames contract, finishing the series and the other projects they had been working on at the time. However, now having almost doubled his income, Vince was faced with another problem: tax. At the eye-watering early 1970s rate of 80%, his accountant advised that for the remainder of this generous contract, he should rent a villa and move to the south of France for an entire tax year. This, of course, did not hinder his writing and editing duties, but the 'comedy adviser' portion of the contract was dropped.
During this time he continued to write Love Thy Neighbour, penned the new sitcom Rule Britannia!, and when not working on other shows shared the occasional beer with neighbours such as David Niven and Oliver Reed. But this was by no means the curtain call of Vince's career; indeed, he has just as many series with credits to his name after Harry's death as he does before: The Wackers, Mind Your Language, Bottle Boys, A Sharp Intake Of Breath, and almost half of Johnnie Mortimer's sitcom Never The Twain, which ran until 1991, are among the titles.
Vince was married and divorced twice, first to Pat and then Judi, before settling with Australian-born wife Geraldine. He died after a short illness in the Royal Surrey Hospital, Guildford, on the morning of Monday 13th July 2009. Vince is survived by Geraldine and his three children; Dominic, Genevieve & Anthony.
Francoise Pascal, who co-starred as saucy French student Danielle in Vince's 1977 sitcom Mind Your Language told us: "I am devastated. He was a great man and a great husband and father to his wife and children. He will be missed terribly not only by me but by millions that loved his writing and his genius in looking at the world straight on without prejudice."
Apex Publishing's Chris Cowlin, who published Powell's autobiography From Rags to Gags last October says: "I last saw Vince in September 2008, we had dinner together and talked about his wonderful television career. He entertained me for hours with his stories from the past and about the people he knew. Vince Powell has made many millions of people laugh throughout his career, and that is what he enjoyed best; this is a sad time for British television and he will be missed by family, friends, show business colleagues and many, many fans."
Share this page