Miranda picks up top Comedy.co.uk Awards titles
Miranda picks up top Comedy.co.uk Awards titles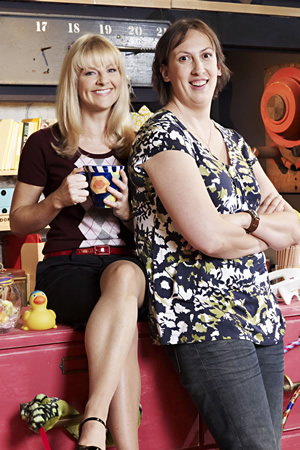 The results of the Comedy.co.uk Awards 2012 have been announced.
Miranda, Hebburn, Horrible Histories, QI, Fresh Meat and I'm Sorry I Haven't A Clue are amongst the winners.
Now in their seventh year, the annual awards are determined purely by public vote and, uniquely, every new British comedy programme broadcast on TV and radio during the year is nominated, with no shortlist.
388 different comedy titles were eligible across the 11 key award categories - totalling more than 1,200 hours of new British comedy programming broadcast throughout the year.
Below is a list of the TV and radio shows that were voted best in their category:
Best New TV Sitcom
Hebburn
Best TV Sitcom
Miranda
Best Radio Sitcom
Bleak Expectations
Best TV Sketch Show
Horrible Histories
Best Radio Sketch Show
John Finnemore's Souvenir Programme
Best TV Panel Show
QI
Best Radio Panel Show
I'm Sorry I Haven't A Clue
Best TV Entertainment Show
The Graham Norton Show
Best Radio Entertainment Show
Mark Steel's In Town
Best TV Comedy Drama
Fresh Meat
Notably, Miranda, the hit BBC sitcom written by and starring Miranda Hart was named by voters as not only Best TV Sitcom but also the single Best Comedy of 2012.
Additionally, the Editors' Award goes to Big Talk's Comedy Central sitcom, Threesome.
British Comedy Guide's editors say: "We're delighted with the reception to this year's awards. Comedy fans have cast votes in their hundreds and thousands to determine the winners, and we believe the results paint a fair reflection of contemporary British comedy on television and radio.
"Whilst the vibrant mix of winners represent a healthy and diverse British comedy scene, the continued popularity of Miranda should send a clear message to commissioners that the British public enjoy little more than the feel-good, gag-driven, unashamedly broad humour of the traditional studio sitcom. Indeed, critics may wish to note that only 3 of this year's winners were not recorded in front of a live studio audience.
"2012 was a great year for British comedy across all genres, and we look forward to the exciting offerings of 2013 - and to seeing what the Great British Public think of them next January!"
Visit the Comedy.co.uk Awards 2012 page for further detail on the winners, runners-up, and the least popular comedies of the year.
Share this page