A Bunch Of Amateurs
A Bunch Of Amateurs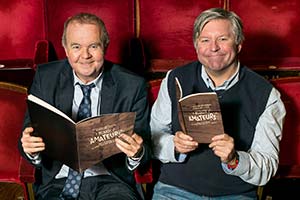 A new UK tour of Ian Hislop and Nick Newman's comedy A Bunch Of Amateurs, also a hit feature film starring Burt Reynolds.
Keen to boost his flagging career, fading Hollywood action hero Jefferson Steele arrives in England to play King Lear in Stratford - only to find that he is not in the birthplace of Shakespeare, but in a sleepy Suffolk village. And instead of starring alongside Sir Kenneth Branagh and Dame Judi Dench, the cast are a bunch of amateurs trying to save their theatre from ruthless developers.
Jefferson's monstrous ego, vanity and insecurity are tested to the limit by the enthusiastic amateur thespians he finds himself sharing the spotlight with. As acting worlds collide and Jefferson's career implodes, he discovers some truths about himself - along with his inner Lear!
Tour dates
Thursday 23 April - Saturday 2 May
Everyman Theatre, Cheltenham
Monday 4 - Saturday 9 May
Exeter Northcott Theatre
Monday 11 - Saturday 16 May
Northampton Theatre Royal
Monday 18 - Saturday 23 May
Richmond Theatre
Tuesday 26 - Saturday 30 May
Birmingham Rep
Tuesday 2 - Saturday 6 June
York Theatre Royal
Monday 8 - Saturday 13 June
Cardiff New Theatre
Tuesday 16 - Saturday 20 June
Oxford Playhouse
Tuesday 23 - Saturday 27 June
Nottingham Theatre Royal
Monday 29 June - Saturday 4 July
Yvonne Arnaud, Guildford