Tom Binns: The 'Psychic' Comedium
Tom Binns: The 'Psychic' Comedium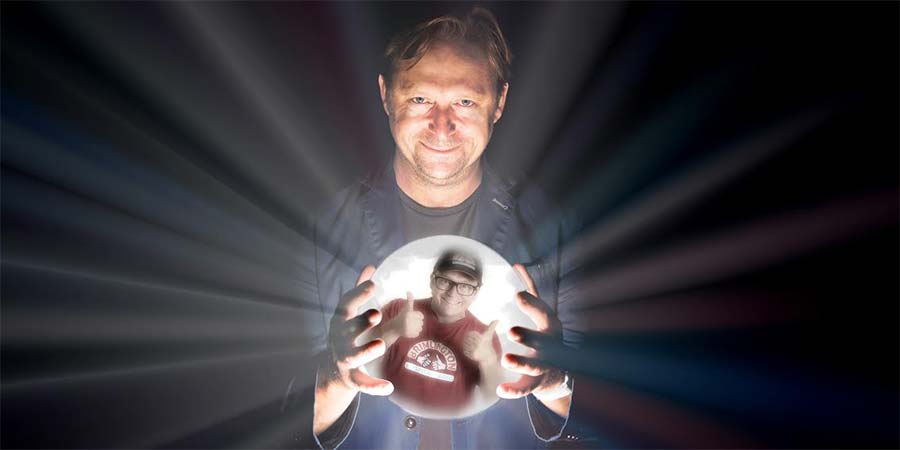 Multi award winning comedian Tom Binns has performed his 'Psychic' character Ian D Montfort to 5-star reviews around the world and in the British film Eaten By Lions. He's entertained and amazed sceptics and believers alike on his own BBC Radio 2 series Ian D Montfort Is: Unbelievable and his critically acclaimed BBC One Friday night series Hospital People.
During this time Tom claims to have discovered a genuine 'psychic' ability and now performs as the 'Psychic' Comedium. In his performances Tom clearly makes jaw dropping revelations about his audience but is he gifted or is it an elaborate con and is he's just full of shit?
Whatever you decide, his gift for comedy is undeniable and his apparent 'psychic' powers are unbelievable!
Tom is supported on this tour by his popular hospital radio DJ character, Ivan Brackenbury.
Tour dates
08/01/20 - Southampton
09/01/20 - Bedford
10/01/20 - Exeter
12/01/20 - Liverpool
13/01/20 - Derby
15/01/20 - Paignton
16/01/20 - Wellington
19/01/20 - Stafford
26/01/20 - Newcastle
27/01/20 - Glasgow
28/01/20 - Edinburgh
31/01/20 - Whitby
01/02/20 - Watford
04/02/20 - Norwich
05/02/20 - Ashby-de-le-Zouch
08/02/20 - Ivybridge
09/02/20 - Reading
13/02/20 - Darlington
14/02/20 - Nottingham
15/02/20 - Leek
20/02/20 - Lincoln
22/02/20 - Leicester
28/02/20 - Birmingham
29/02/20 - Gainsborough
04/03/20 - Trafford
05/03/20 - Exmouth
06/03/20 - Cleckheaton
07/03/20 - Farsley
14/03/20 - Chorley
22/03/20 - Hull
25/03/20 - Sheffield
02/04/20 - Barnstaple
22/04/20 - London
23/04/20 - London
24/04/20 - Sudbury
07/05/20 - Lytham St Anne's
08/05/20 - Halifax
Credits