Simon Evans: The Work Of The Devil
Simon Evans: The Work Of The Devil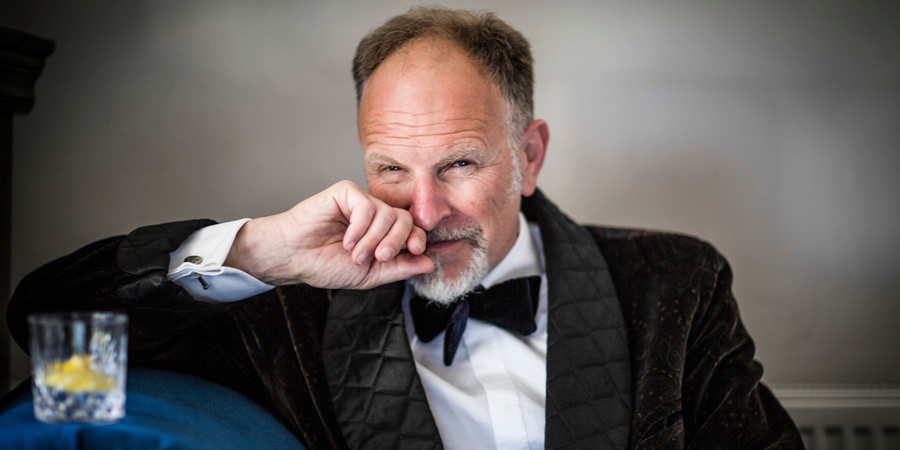 Simon Evans's last tour, Genius 2.0, provided an hilarious analysis of the departure of any visible sign of intelligence from modern life. But his new show raises the stakes, with his usual excoriating views of a world on fire - given a perspective shift due to personal revelations that have turned his world upside down this year.
Simon Evans is one of the country's best-loved stand-up comedians, with a loyal fan base who greatly appreciate his intelligent and independent scrutiny of the modern world. His tongue-in-cheek, often rueful attachment to traditionalism, and his scepticism towards the claimed achievements of progressive politics and modernist aesthetics, have set him apart from many of his contemporaries. As well as making him a firm favourite on the usual platforms - Live At The Apollo, the Edinburgh Festival and the corporate circuit in particular - these qualities allow him to provide much-needed latitude and offer a diversity of views on TV and radio programmes - from BBC One's Question Time to Radio 4's The News Quiz. He has also written and presented five series of the ground breaking economics/comedy hybrid Simon Evans Goes To Market, on that same network.
But this year, Evans has adapted to unexpected personal revelations of a quite extraordinary nature, and used them to re-examine his entire 23-year career in comedy to date. And in so doing he has, in the words of Chortle's Jay Richardson - "Exceeded what seemed to be his full potential."
Given that this full potential had already been enough to earn a coveted five-star review from The Scotsman's Kate Copstick in 2017, with his show Genius - "A Masterclass" - this would seem to be a bold claim. But it is one that Evans made good on, night after night, at this year's Fringe.
For some of its impact, the show does indeed rely on the full force of the revelation that defines the second half - and that retroactively reconfigures everything that has come before. Evans is already adapting to the fact that many people are coming to see the show for a second time, and reporting that it is if anything even more satisfying second time around.
Tour dates
Thursday, 6th February: Tring Court Theatre
Friday, 7th February: Gravesend The Woodville
Saturday, 8th February: Norwich Playhouse
Friday, 14th February: London Blackheath Halls
Saturday, 15th February: Finchley artsdepot
Saturday, 29th February: Burton upon Trent Brewhouse
Tuesday, 3rd March: Great Torrington Plough Arts Centre
Wednesday, 4th March: Launceston Town Hall
Thursday, 5th March: Plymouth Red House Theatre
Friday, 6th March: Bristol Redgrave Theatre
Wednesday, 11th March: Birmingham Glee (Main Room)
Thursday, 12th March: Nottingham Glee (Main Room)
Friday, 13th March: Peterborough Key Theatre
Saturday, 14th March: Scunthorpe Plowright Theatre
Saturday, 28th March: Bognor Regis Regis Centre
Wednesday, 1st April: Saffron Walden Town Hall
Thursday, 2nd April: Banbury The Mill Arts Centre
Friday, 3rd April: Worcester Huntingdon Hall
Saturday, 4th April: Bath Widcombe Social Club
Sunday, 5th April: Swindon Arts Centre
Tuesday, 7th April: Salford The Lowry
Wednesday, 8th April: Leeds The Wardrobe
Thursday, 9th April: Darwen Library Theatre
Friday, 10th April: Bakewell Town Hall
Thursday, 16th April: Andover The Lights
Friday, 17th April: Christchurch The Regent
Saturday, 18th April: Letchworth Broadway Theatre
Thursday, 23rd April: Cheltenham Town Hall
Friday, 24th April: Leek Foxlowe Arts Centre
Saturday, 25th April: High Wycombe Wycombe Swan
Sunday, 26th April: Portsmouth Wedgewood Rooms
Friday, 1st May: Lincoln New Theatre Royal
Saturday, 2nd May: Isle of Wight Medina Theatre
Friday, 15th May: Hexham Queen's Hall
Saturday, 16th May: Northallerton The Forum
Friday, 25th September: Barnsley The Lamproom Theatre
Saturday, 26th September: Richmond Georgian Theatre Royal
Friday, 2nd October: Folkestone Quarterhouse
Wednesday, 7th October: Wimborne Tivoli Theatre
Friday, 9th October: Loughborough Town Hall
Saturday, 10th October: Monmouth Savoy Theatre
Thursday, 15th October: Bordon Phoenix Theatre
Saturday, 17th October: Millom The Beggar's Theatre
Sunday, 18th October: Sheffield The Leadmill
Saturday, 24th October: Barton-upon-Humber The Ropewalk
Friday, 30th October: Redruth Regal Theatre
Saturday, 31st October: Exeter Corn Exchange
Friday, 6th November: Chorley Little Theatre
Saturday, 7th November: Leicester The Y Theatre
Saturday, 14th November: Huntingdon Hinchingbrooke Performing Arts Centre
Friday, 20th November: Carmarthen The Lyric
Saturday, 21st November: Kettering Arts Centre
Sunday, 22nd November: London Leicester Square Theatre
Friday, 27th November: Alnwick Playhouse
Saturday, 28th November: Barnard Castle The Witham
Sunday, 29th November: Newcastle upon Tyne The Stand
Credits