George Egg: Movable Feast
George Egg: Movable Feast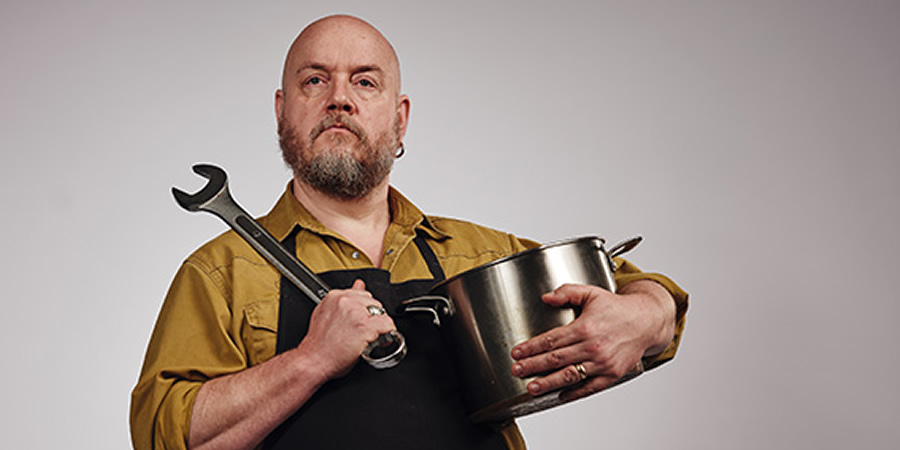 The award-winning stand-up and cook, George Egg, embarks on his highly anticipated UK tour following a hugely successful sell out run at the Edinburgh Festival Fringe this year, with a brand new show in which he will, once again, inspire you to laugh and salivate in equal amounts.
In his debut show, Anarchist Cook, George made a meal in a hotel room with the complimentary appliances. In his second, DIY Chef, he was stuck in a shed cooking with tools. In this show he's on the road! It's time for Planes, Trains and Automob-meals (sorry).
During an evening of live cooking and laugh-out-loud comedy George demonstrates how to, amongst other things, cook with an engine, get the most from the car battery and even utilise the air-con. He'll demonstrate ways to procure items from the train buffet trolley, beat the rip-off restaurant prices at the airport and show how to turn unexpected road-works into a picnic. It's cheeky, anarchic and creative, a multisensory show rich in humour and sprinkled with handy hacks. Real plates of gourmet food cooked live in the most unconventional ways and with the opportunity to taste the results at the end, provided you can stop laughing.
2019 Dates
Sep 25: City Varieties, Leeds
Sep 26: Ginger and Spice Festival, Market Drayton
Sep 27: Bridge House Theatre, Warwick
Oct 04: Chequermead Arts, East Grinstead
Oct 05: Jubilee Hall, Aldeburg
Oct 10: Astor Community Theatre, Deal
Oct 18: Rondo Theatre, Bath
Oct 19: Phoenix Arts, Bordon
Oct 23: Memorial Hall, Sheffield
Oct 24: The Met, Bury
Oct 30 - Town Hall, Saffron Waldon
Nov 07: Chichester Festival
Nov 08: Colchester Arts Centre
Nov 14: Cornerstone Arts, Didcot
Nov 16: Artrix, Bromsgrove
Nov 21: ARC, Stockton
Nov 22: Square Chapel Arts, Halifax
Nov 23: Nordon Farm Arts Centre, Maidenhead
Nov 28: Oran Mor, Glasgow
Tour dates
APRIL
09 - LEEDS, The Wardrobe
10 - BARTON-ON-HUMBER, The Ropewalk
17 - WHITEHAVEN, Rosehill Theatre
29 - SOLIHULL, The Core
MAY
06 - CAERNARFON, Galeri
07 - SALE, Waterside Arts
08 - CARLISLE, Old Fire Station
09 - HAVANT, The Spring
13 - GRANTHAM, Guildhall Arts
14 - SUDBURY, Quay Theatre
21 - NOTTINGHAM, Lakeside Arts Centre
22 - HEMEL HEMPSTEAD, Old Town Hall
23 - BRIGHTON FRINGE, The Warren
24 - BRIGHTON FRINGE, The Warren
26 - LEICESTER, Upstairs at The Western
27 - LEICESTER, Upstairs at The Western
28 - BANBURY, The Mill Arts Centre
29 - CHESHAM, Elgiva Theatre
30 - BRIDGWATER, Bridgwater Arts Centre
JUNE
03 - BARNES, Oso Arts Centre
04 - CORSHAM, The Pound
05 - GREAT TORRINGTON, Plough Arts
06 - DORCHESTER, Corn Exchange
11 - NEW MILTON, Forest Arts
12 - IPSWICH, Avenue Theatre
13 - KETTERING, Kettering Arts Centre
14 - NORWICH, The Garage
18 - BRAINTREE, Arts Theatre
19 - PETERBOROUGH, Key Theatre
20 - BURTON-ON-TRENT, Brewhouse Theatre
21 - MOLD, Theatr Clwyd
JULY
02 - EXETER, Exeter Phoenix
03 - FROME, Merlin Theatre
04 - SWINDON, Arts Centre
05 - CREWE, Lyceum Theatre
10 - FOLKESTONE, Quarterhouse
14 - LICHFIELD, Lichfield Festival
15 - WELLINGBOROUGH, Castle Theatre
17 - FAREHAM, Ashcroft Arts Centre
18 - MAIDSTONE, Hazlitt Theatre
23 - BRISTOL, Wardrobe Theatre
24 - CAMBRIDGE, The Junction
AUGUST
24 - EDINBURGH FRINGE, Assembly George Square Gardens
25 - EDINBURGH FRINGE, Assembly George Square Gardens
26 - EDINBURGH FRINGE, Assembly George Square Gardens
27 - EDINBURGH FRINGE, Assembly George Square Gardens
28 - EDINBURGH FRINGE, Assembly George Square Gardens
29 - EDINBURGH FRINGE, Assembly George Square Gardens
30 - EDINBURGH FRINGE, Assembly George Square Gardens
Credits