Griff Rhys Jones: All Over The Place
Griff Rhys Jones: All Over The Place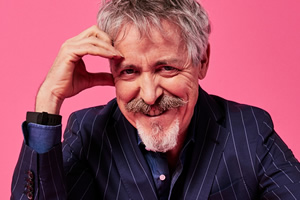 Anyone who caught the sell-out success of his previous one-man entertainments Jones and Smith and Where Was I? will know to expect more hilarious rambling from Griff Rhys Jones. One half of Smith & Jones, one quarter of Not The Nine O'Clock News and one third of Three Men In a Boat will be presenting another evening of hilarious true stories, riffs, observations and details of his recent medical procedures.
"It will be packed with wicked insights into the pains of celebrity, his experiences of travel, the vicissitudes of elderly parenthood and encounters with the great, the good - even the Royals.
"Griff is all over the place this year. Make sure not to miss him."
2019 tour dates
Friday 5th July - Bowness-On-Windemere: Old Laundry Theatre
Thursday 18th July - Haverhill: Arts Centre (PREVIEW)
Friday 19th July - Aldeburgh: Jubilee Hall (PREVIEW)
Saturday 20th July - Diss: Corn Hall (PREVIEW)
Wednesday 31st July - Colchester: Arts Centre (PREVIEW)
Sunday 4th August - Sudbury: Quay Theatre (PREVIEW)
Tuesday 4th September - Didcot: Cornerstone (PREVIEW)
Wednesday 4th September - Hemel Hempstead: Old Town Hall (PREVIEW)
Thursday 5th September - Bedford: Quarry Theatre (PREVIEW)
Friday 6th September - Chipping Norton: Theatre (PREVIEW)
Thursday 12th September - Lincoln: Drill Hall
Friday 13th September - Leeds: City Varieties
Saturday 14th September - Liverpool: The Everyman Theatre
Sunday 15th September - Salford: The Lowry
Thursday 19th September - Bristol: Redgrave Theatre
Friday 20th September - Bridport: Electric Theatre
Saturday 21st September - Bridgwater: McMillan Theatre
Sunday 22nd September - Yeovil: The Octogan Theatre
Thursday 8th October - Maidenhead: Norden Farm
Thursday 10th October - Haywards Heath: Clair Hall
Saturday 12th October - Jersey: Opera House
Wednesday 16th October - Hereford: Courtyard
Thursday 17th October - Shrewsbury: Theatre Severn
Friday 18th October - Bromsgrove: Artrix
Saturday 19th October - Evesham: Arts Centre
Sunday 20th October - Tring: Court Theatre
Wednesday 23th October - Folkestone: Quarterhouse
Thursday 24th October - Bognor Regis: Regis Centre
Friday 25th October - Radlett: The Radlett Centre
Saturday 26th October - Winchester: Theatre Royal
Sunday 27th October - Isle of Wight: Medina Theatre
Wednesday 30th October - Newport: Riverfront
Thursday 31st October - Monmouth: Savoy Theatre
Friday 1st November - Neath: Gwyn Hall
Saturday 2nd November - Aberyswyth: Arts Centre
Thursday 7th November - Norwich: Playhouse
Friday 8th November - Tunbirdge Wells: Trinity Theatre
Saturday 9th November - Swindon: Wyvern Theatre
Thursday 14th November - Newbury: Corn Exchange
Friday 15th November - Milton Keynes: Stables
Saturday 16th November - Melton Mowbry: Melton Theatre
Sunday 17th November - Epsom: Playhouse
Thursday 21st November - Bishops Stortford: Rhodes Arts Complex
Thursday 22nd November - Farnham: Maltings
Saturday 23rd November - Wantage: Beacon
Sunday 24th November - Letchworth: Broadway
Thursday 28th November - Plymouth: Red House Theatre
Friday 29th November - Launceston: Town Hall
Saturday 30th November - Paignton: The Palace
Credits