Ed Byrne: If I'm Honest...
Ed Byrne: If I'm Honest...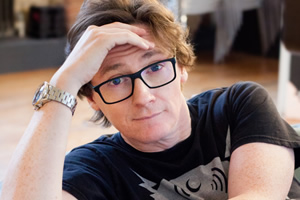 Following his biggest ever tour in 2018, in which Ed sold out his entire Edinburgh Fringe run and many of his nationwide dates, culminating in extra dates added along the way, one of the finest observational comics in the industry announces his brand-new tour for 2019. Join him as he takes a long hard look at himself and tries to decide if he has ANY traits that are worth passing on to his children.
Dates
SEPTEMBER
Tues 17th: CANTERBURY, Gulbenkian
Weds 18th: RADLETT, Radlett Centre
Thurs 19th: WORCESTER, Huntingdon Hall
Fri 20th: - Sat 21st: EASTLEIGH, The Berry
Weds 25th: STAFFORD, The Gatehouse
Thurs 26th: TROWBRIDGE, Civic Centre
Fri 27th: - Sat 28th: MILTON KEYNES, The Stables
OCTOBER
Tues 1st - Weds 2nd: RUNCORN, The Brindley
Thurs 3rd - Fri 4th: WINCHESTER, Guildhall
Sat 5th: HERTFORD, Hertford: Theatre
Tues 8th: ALDERSHOT, Princes Theatre
Weds 9th: REDDITCH, Palace Theatre
Thurs 10th: BEDFORD, Corn Exchange
Fri 11th: POTTERS BAR, Wyllyots Centre
Sat 12th: HUNTINGDON, HHPAC
Weds 16th: STEVENAGE, Gordon Craig Theatre
Thurs 17th: NEWARK, Palace Theatre
Sat 19th: LOUGHBOROUGH, Charnwood Theatre
Mon 28th: SHREWSBURY, Theatre Severn
Tues 29th - Weds 30th: LICHFIELD, The Garrick
Thurs 31st: BARROW IN FURNESS, Forum 28
NOVEMBER
Fri 1st: FLEETWOOD, Marine Theatre
Sat 2nd: EVESHAM, The Regal
Tues 5th: KINGS LYNN, Corn Exchange
Thurs 7th: HORSHAM, Capital Theatre
Fri 8th: DORKING, Dorking Halls
Sat 9th: BEDOWORTH, Civic Hall
Tues 12th - Weds 13th: LEEDS, City Varieties
Thurs 14th: BURY st: EDMUNDS, The Apex
Fri 15th: READING, Hexagon
Sat 16th: ALBANS, Alban Arena
Tues 19th: CREWE, Lyceum
Thurs 21st: HUDDERSFIELD, LBT
Fri 22nd: TUNBRIDGE WELLS, Assembly Hall
Sat 23rd: MARGATE, Theatre Royal
Tues 26th: WORTHING, Assembly Hall
Weds 27th: CRAWLEY, The Hawth
Thurs 28th: NEW BRIGHTON, Floral Pavilion
Fri 29th: CHELTENHAM, Town Hall
Sat 30th: WELLINGBOROUGH, Castle
DECEMBER
Weds 4th: LYTHAM st: ANNES, Lowther Pavilion
Thurs 5th: SWANSEA, Grand Theatre
Fri 6th: EVESHAM, The Regal
Sat 7th: COLCHESTER, Charter Hall
Tues 10th: WARRINGTON, Parr Hall
Weds 11th: BACUP, Royal Court Theatre
Thurs 12th: CHESTERFIELD, Winding Wheel
Fri 13th: YORK, Barbican
Sat 14th: BRADFORD, st: Georges Hall
JANUARY 2020
Fri 17th: CRAWLEY, The Hawth
Sat 18th: KINGSTON, Rose Theatre
Tues 21st: MILTON KEYNES, The Stables
Weds 22nd: LANCASTER, The Grand
Thurs 23rd: LEEDS, City Varieties
Fri 24th: HARROGATE, Royal Hall
Sat 25th: SHEFFIELD, Memorial Hall
Weds 29th: PETERBOROUGH, New Theatre
Thurs 30th: BIRMINGHAM, Town Hall
Fri 31st: HULL, City Hall
FEBRUARY
Sat 1st: STOKE, Victoria Hall
Sun 2nd SALFORD, Lowry
Tues 4th: NORWICH, Theatre Royal
Weds 5th: LEICESTER, De Montford: Hall
Thurs 6th: CHATHAM, Central Theatre  
Fri 7th: WATFORD, Palace Theatre
Sat 8th: BASINGSTOKE, Anvil
Mon 10th: REDHILL, Harlequin
Tues 11th: BURY st: EDMUNDS, Apex
Weds 12th: NORTHAMPTON, Derngate
Thurs 13th: NEWCASTLE, Tyne Theatre
Fri 14th: GLASGOW, Pavilion
Weds 26th: st: ALBANS, Arena
Thurs 27th: BOURNEMOUTH, Pavilion
Fri 28th: AYLESBURY, Waterside
Sat 29th: HIGH WYCOMBE, Wycombe Swan
MARCH
Weds 4th: WOKING, New Victoria Theatre
Thurs 5th: BELFAST, Waterfront
Fri 6th: BRIGHTON, Corn Exchange
Sat 7th: CAMBRIDGE, Corn Exchange
Tues 10th: CORBY, Cube
Weds 11th: LINCOLN, Drill Hall
Thurs 12th: TELFORD, Oakengates
Fri 13th: SWINDON, Wyvern
Sat 14th: COVENTRY, Warwick Arts Centre
Sun 15th: RICHMOND, Richmond Theatre
Tues 17th: SHREWSBURY, Theatre Severn
Weds 18th: CHELTENHAM, Town Hall
Thurs 19th: BATH, Forum
Fri 20th: BARNSTAPLE, Queens Theatre
Sat 21st: CARDIFF, st: Davids Hall
Tues 24th: WALSALL, Forest: Arts Centre
Weds 25th: SOUTHAMPTON, Guildhall
Thurs 26th: EXMOUTH, Pavilion
Fri 27th: TAUNTON, Wellsprings
Sat 28th: PLYMOUTH, Pavilions
Sun 29th: YEOVIL, Octogon
APRIL
Tues 28th: HEREFORD, Courtyard: Theatre
Weds 29th: BLACKWOOD, Miners Institute
Thurs 30th: FROME, Cheese & Grain
MAY
Fri 1st: LEAMINGTON SPA, Pavilion
Sat 2nd: ISLE OF MAN, Gaiety Theatre
Weds 13th: STOCKPORT: Plaza Theatre
Thurs 14th: LIVERPOOL, Playhouse Theatre
Fri 15th: BUXTON: Opera House
Sat 16th: IPSWICH, Regent Theatre
Sun 17th: BLACKPOOL, Grand Theatre
Weds 20th: WIMBORNE: Tivoli Theatre
Thurs 21st: DARTFORD, Orchard
Fri 22nd: FARNHAM, Maltings
JUNE
Mon 1st-Tues 2nd: DUNDEE, Rep Theatre
Weds 3rd: MOTHERWELL, Concert Hall
Thurs 4th: PERTH, Concert Hall
Fri 5th: DUNFERMLINE, Alhambra Theatre
Sat 6th: ABERDEEN, Music Hall
Tues 9th: ISLE OF WIGHT, Shanklin
Weds 10th: BEXHILL, De La Warr Pavilion
Thurs 11th: PORTSMOUTH, New Theatre Royal
Fri 12th: BRIDPORT, Electric Palace
Sat 13th: TORQUAY, Babbacombe
Tues 16th: BILLINGHAM, Forum
Weds 17th: MIDDLETON, Arena
Thurs 18th: DUDLEY, Town Hall
Fri 19th: DURHAM, Gala
Sat 20th: HALIFAX, Victoria Theatre
Weds 24th: GUILDFORD, G Live
Thurs 25th: HARLOW: Playhouse
Fri 26th: HASTINGS, White Rock Theatre
Sat 27th: SALISBURY, City Hall
Sun 28th: HIGH WYCOMBE, The Swan
Tues 30th: DUNSTABLE, The Grove
JULY
Weds 1st: STEVENAGE: Gordon Craig Theatre
Thurs 2nd: EPSOM, Playhouse
Fri 3rd: CHESTERFIELD: Winding Wheel
Sat 4th: MIDDLESBROUGH, Town Hall
Credits