Review: Rufus Hound joins the cast of 'One Man, Two Guvnors'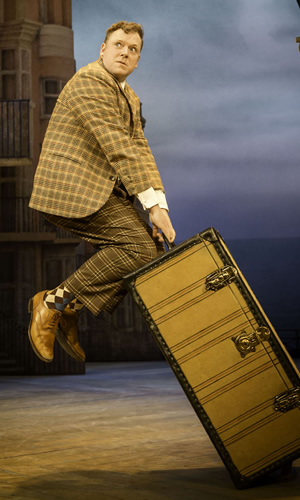 A review of Rufus Hound appearing in the hit stage-show 'One Man, Two Guvnors'...
Rufus really is a Hound with his interpretation of Francis Henshall, the loveable chancer and leading man in the hit West End play One Man, Two Guvnors.
As the third actor to take on the role made famous by James Corden, Hound had some big shoes to fill. Thankfully, it seems he's not so much filled Corden's shoes, as altered them to suit his own size.
The role in question, that of Henshall, is the permanently ravenous minder who looks after a small East End crook - or so he believes. Spotting the chance to earn himself an extra meal ticket, Francis takes on a second job with a posh boy on the run from the police for murder... of the aforementioned crook.
The role calls for a warm, approachable personality who can win the audience over - a description much more befitting Corden, or his successor Owain Arthur, than that of Rufus Hound.
Rufus, however, seems to call upon his vast experience as a comedian to make the character much more mischievous. During an improv scene with two audience members he was quick-witted and, at times, very derogatory - much to the pleasure of the rest of us.
Though Corden was awarded his first Tony Award for playing Henshall, and Arthur's cheeky portrayal of the hapless minder earned him a promotion from understudy to lead, Hound's unscrupulous interpretation breathes 'fresh hilare' into a play that is entering its third run on the West End.
Hound isn't the only new face in the production, however. The cast has had a complete overhaul, with Amy Cudden and Sam Alexander taking on the roles of the two guvnors.
It is a credit to the writing, production and direction of the play that so many new cast members can seamlessly join returning faces such as Derek Elroy as ex-con Lloyd and Martin Barrass as the now infamous aged waiter, Alfie.
There's a reason this is an award winning show that has toured the country, played on Broadway and has again returned to the West End. For those of you who haven't seen One Man before, you're in for an entertaining treat but even if you have, never fear - you'll tear your muscles afresh from laughing so hard.
To find out more about 'One Man, Two Guvnors' visit www.onemantwoguvnors.com