Comedy Gold, Old Queen's Head in Angel - review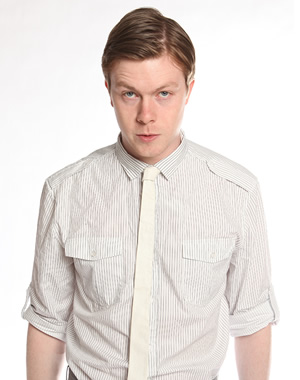 There's such a plethora of high-quality, regular comedy nights in the capital at the moment that sampling them all inevitably takes some time - but it's certainly a shame that it's taken me so long to get around to trying out Comedy Gold
Run by Anneli Powell and Bethan Gorman, Comedy Gold occupies the upstairs space at the Old Queen's Head on Essex Road, and actually it's quite an odd room for comedy - with certain areas split into separate booths, meaning that it's hard for everyone to really gather round the stage. Huge kudos, then, to compere Daniel Rigby (pictured), whose bouncy silliness meant that these possible logistical problems were quickly and deftly overcome, and as far as I could tell everyone felt involved in the action.
Rigby, you might remember, is the actor who recently won a BAFTA for his superb performance as a young Eric Morecambe in the BBC's biopic Eric & Ernie. And while it was certainly his good old fashioned stand-up skills that got the audience geed up for the other acts, it was this acting nous that added extra sparkle to the best part of his short sets. Taking inspiration from those cheap mass-market magazines like Take A Break and Chat which make light entertainment out of horrific stories, he told his own terrifying tale of losing his legs during a game of Trivial Pursuit. Brilliantly written, and very funnily performed.
Tonight, Rigby introduced four acts, starting with the familiar-looking James Redmond. Familiar-looking - telly fans will know - because he actually made his name as a TV actor, having appeared in Hollyoaks and Casualty. Making the jump to comedy when you have this background is a brave move but one that seems to have paid off - his stories about the perils of minor celebrity may not be revolutionary, but he's a solid and charmingly self-deprecating comic.
Matt Kirshen's rambling personal stories were a bit of a gear change after being brought on by the super-excitable Rigby, and it took a little time for the audience to settle into the more leisurely pace. But when he gets into talking about the embarrassing moments that he says pepper his life he's really at his best, and you can't help but laugh - and cringe - along with him.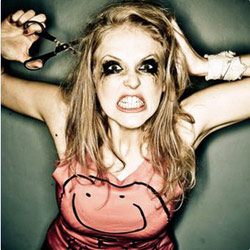 Headliner Tom Stade occupies the other end of the comedy spectrum; striding around the stage and bellowing his material like an inebriated (and Canadian) town crier. He tells stories that have the audience laughing before their PC-filter has a chance to kick in - but manages to deflect the blame onto a guy in the front row whom he introduces as his old mate Jimmy. It's a neat and really successful little trick.
Act of the night though was undoubtedly the excellent Pippa Evans as her American singer-songwriter character Loretta Maine (pictured). I don't get to see Evans as often as I'd like, but every time I have the pleasure I'm taken aback by how ruddy talented she is. As the hard-drinking, messed up Maine, she performs musical diatribes about her disastrous love-life involving break-ups and one-night-stands and, importantly, the songs would work even without the jokes. Her extended rant against Cosmopolitan magazine is brilliant, and set-closing anthem in which she squares up to the record producers who don't recognise her talent inspired. Great stuff.