Big Sketch Bash, 100 Club - Review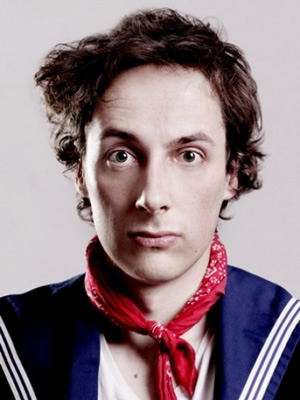 Sketch comedy can sometimes feel like a lovely little secret kept between those who are lucky enough to frequent the live scene. Out there in the 'real' world, fashions in comedy come and go, but we know that the special chemistry between members of a really great sketch group can create the most wonderful moments to be found in the theatre or comedy club.
There were many of those wonderful moments on show at the Big Sketch Bash, a celebration of ensemble comedy put on by Feature Spot at the legendary 100 Club, deep below London's Oxford Street and recently saved from closure.
Tommy and the Weeks had been advertised as performing, but with Ed Weeks out in LA, it was left to Tom Bell (pictured) to put his solo stand-up hat on and perform compere duties. "He's flown himself out there" he said, with a half-feigned jealousy, "so I don't think any work will really come of it." Luckily, Bell was a pretty perfect MC for this, his easy, fanciful style providing a lovely gear-change from the generally high-energy acts he was introducing. Highlights of his sections included awarding the most Irish member of the audience with a carton of cat milk for St Patrick's Day, and a great set-piece in the guise of his alter-ego Professor Flash Likely.
Bell introduced five acts, starting with Totally Tom (in a night of many Toms, Tom fans) a double-act that leaves ad-libs and asides to others, and is instead big on intensity of performance. Their BBC Three Skins-meets-the-Hitler-Youth extended sketch could probably be chopped down a bit but has a great idea at its heart, and the tale of a family ripped apart by a young boy's addiction to photo booths is both as disturbing and funny as it sounds.
Anna & Katy were probably the most well-known performers to appear on the night - Anna Crilly steals many scenes in Lead Balloon, while Katy Wix has regularly appeared in Not Going Out for a few years now. They also offered the oddest material, bringing to mind as I find they always do, Reeves and Mortimer at their most brilliantly bizarre (which is praise indeed), with sideways, strangely dark and very funny takes on WI baking competitions and rubbish game shows. The awkward WI sketch in particular had the audience in stitches, and deservedly so.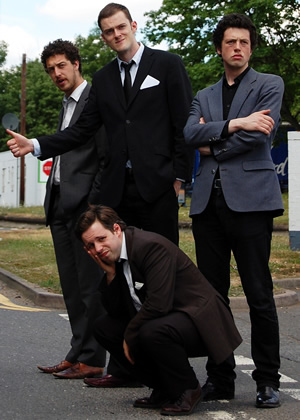 The Three Englishmen were next, and there actually were three of them tonight, rather than their customary four. A couple of skits didn't quite fire - the orthodox Jewish reimagining of pop songs perhaps needs a bigger run up than their short slot provided - but several were great, in particular the GCSE French oral exam, which is as sweet as it is funny. And Ben Cottam as a hen-pecked Tim Burton is just brilliant.
Pappy's, meanwhile, may have ditched the 'Fun Club' from their name, but they're still as perfect a dictionary-definition of fun as you're ever likely to encounter. Spending time in their company is rarely anything less than a joy, but they were on a bit of a roll tonight - whether dancing to Justin Bieber's Baby, singing in the guise of vending machines and ATMs, or acting out a Choose Your Own Adventure story. And frankly, a song about how much gloves can tell you about the man wearing them just shouldn't be this good.
The headline slot was taken by the excellent Penny Dreadfuls, and with each of its three members taking solo shows to Edinburgh this year, the opportunities to see them are few and far between at the moment. But all opportunities should be taken - these are fine performers and clever writers, and sometimes, as tonight, they even do their own inter-sketch music. Their Twilight parody - with Humphrey Ker going all emo at missing out on the wonder of garlic, Thom Tuck as a pouting Kirstin Stewart and David Reed a meddling mummy - is simply inspired.
The whole night really was a masterclass in sketch comedy, demonstrating everything the medium can do so well, from silly songs to mini-plays and giggly interplay. Amazingly, Feature Spot's line-ups are often this good, and you can find out what they've got they've got coming up at www.featurespot.co.uk