Zach & Viggo
One random comedian, eight random questions; it's the ultimate test of funny person and fate. This week it's a duo cum production company (heh, he said cum production company) - Zach & Viggo, the world's finest Norwegian-American double-act, and the on-stage chaps behind Stamptown Comedy. They have a brand new live show, coming this summer. Hopefully.
"The next Zach & Viggo show is the highly-anticipated follow-up to our debut show, Thunderflop," Zach explains. "It's the first duo show we've made since 2016, which is a bit scary, but we're ready for the challenge and excited to see where it takes us (we sort of made a duo show in 2017 but only performed one run of it because it was bad, so we buried it and pretended it never happened)."
"Since Thunderflop, we've each made two solo shows and a funk-opera with our friends from LA called Thumpasaurus, and we started working on a Zach & Viggo TV series as well. Spoiler alert - it did not get picked up (we're still waiting to hear back from a few networks, but it's been long enough that I think it's safe to assume it did not go through.)"
"We decided to call this new show, Zach & Viggo: TV Mountain, which is a series of adaptations of our failed and very real TV projects for the stage. We'll also be selling copies of each of the pilots after the show, so you can take them home and prove those big suits wrong."
Right on. The dynamic, transatlantic duo will also be premiering a brand new sketch over the next few days, at stamptowncomedy.com, which is nearly done but "we stumbled into a whole new ending."
Didn't we all. Zach and Viggo, your Random 8 await.
Who is - or was - your most interesting relative?
Viggo: My uncle was the funniest one in the family and I looked up to him very much. He was Norwegian, like me, but was in life-danger when chased by a hippo in Tanzania, made friends for life in Adelaide and was banned from Hawaii (he never told me why).
Zach: I had an Uncle called Uncle Eddy, who apparently made 'funny money' in New York in the 1930s and was constantly in and out of jail. I never got a chance to meet him (could've really used that cash) but my Dad's middle name is Edward, and he used to sing me a song about him when I was a kid.
I can't remember it entirely, but it was something like "Uncle Eddy, made funny money, the cops would come and, he would start running," which is pretty insane to think about.
Viggo: Too bad he made funny money but couldn't make you funny!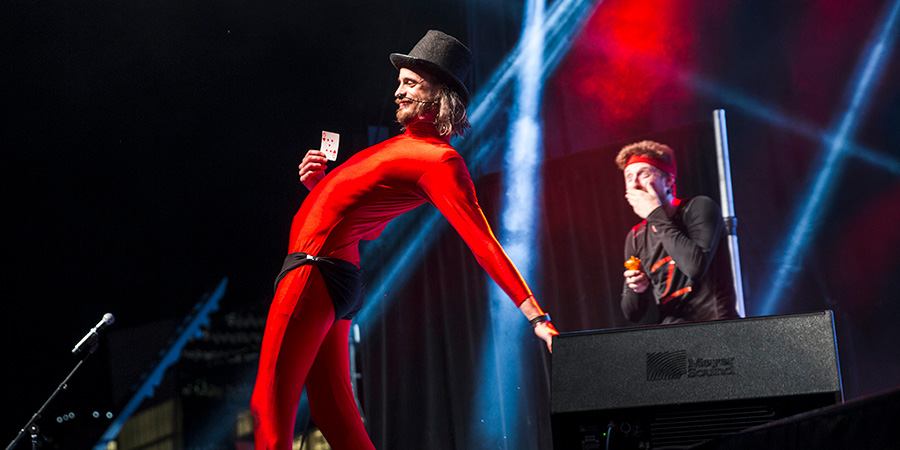 What's the most regrettable thing you've ever bought?
Zach: When I was 18 I moved to Los Angeles to become a star, and I went to Samuel French Bookshop to get massive headshot envelopes, that were exactly what they sounded like. I bought 300 of them and never used a single one.
Viggo: I have never bought anything. In Norway we all just share things.
Do you have a favourite device, ever?
Viggo: A MOTORCYCLE!!
Zach: I've never heard Viggo mention a motorcycle once in the six years we've known each other, so this is a bit of a surprise to me... especially considering my favourite device is also a motorcycle.
Viggo: Vrroooom vrooooom!!
Zach: Yes Viggo... vroom vroom.
Which historical figure should get more attention?
Zach: Patrick 'Rik' Carey of the Baha Men. He's a Grammy award-winning artist who created one of the greatest anthems of all time, and nobody even knows who he is. He's also incredibly unselfish. There was another member in the band named Patrick Carey, who joined the group years after Rik, so Rik changed his named to Rik, so that Patrick would feel more comfortable being himself.
Viggo: Philippe Gaulier. People seem to think he is a trendy teacher for UK comedians to go to, but he really is a theatre teacher, for the books, in my humble opinion.
Zach: Your opinion is humble, but not as humble as Sir Patrick 'Rik' Carey.
Viggo: Vroom vroom.
What's your favourite bit of furniture, ever?
Viggo: I love my extremely sharp Japaneese [sic] cooking knife. It's the only piece of furniture I own.
Your worst cooking disaster?
Viggo: I cut myself on my extremely sharp Japaneese cooking knife...
Which film/TV show would you love to have been in (and which part?)
Zach: I always wanted to voice a character in South Park. That was the first comedy show I watched as a kid and I think everything they do is genius.
Viggo: I would have loved to have been in the Zach & Viggo TV show. And I would play the Viggo-part of Zach & Viggo.
Which live event would you most like to have attended?
Zach: NBA Slam Dunk Contest in 2000 where Vince Carter dunked and put his arm in the rim. He was one of my heroes growing up, and I used to practice doing dunks like him in my driveway.
Viggo: Would love to attend Edinburgh Fringe 2020! Please, please Mr Virus go away, I want to play for the people of Scotland again!