Verona Rose
One random comedian, eight random questions; it's the ultimate test of funny person and fate. This week we welcome a very modern cupid, Verona Rose, who's drawing back her bow and letting her arrow go from Monday on ITV2. She hosts a new show called Secret Crush, which is about, well, take a wild guess.
"Secret Crush sees admirers from all walks of life secretly invite their crush to join them so they can declare their true feelings," Rose explains. "The other person is told that someone in their life secretly likes them, but they won't find out who it is until the moment they walk into the date."
So it could be your best pal, a random work person, or your postie - quite a reveal. Any favourite revelations?
"We had snotty noses, lots of crying and some really dramatic confessions. Dental nurses being surprised by clients, a dater revealing for the first time his drag queen alter-ego and a glamour model explaining patriarchy to her crush. On one date, the girl was like 'what do you mean, I thought you liked guys? Why have you brought me on here?' It was a bit of a shocker."
And Rose is clearly reveling in the Amelie role. "Secret Crush is right up my street as I am a natural cupid. Friends always ask me to hook them up with other friends and sometimes I volunteer my services without them knowing. So, now that I can get paid to advise people to lay their feelings on the line... I am WINNING!"
Indeed, and the comedian/actor/presenter is on the rise, nominated for a Broadcast Digital Award last year for a series "which I created with my chick Donna Preston, called Fully Blown." Rose has also been on Celebrity Come Dine With Me, 8 Out Of 10 Cats, the panel shows Sorry, I Didn't Know and Pants On Fire, and "will next be seen in a Netflix series (eeek) and CBBC's Horrible Histories."
Heady days. Verona Rose, your Random 8 await.
Who was your first onscreen crush - and ever met them?
My first onscreen crush, that I remember, has to have been either Richard Blackwood or Peter Andre. I had a poster of Mr Andre on the wall above my bed and I used to kiss it every night before going to sleep.
I have never met Peter, but I have met Richard Blackwood. When I met him his song kept going around in my head - "Who da man baby, ohh we love you RB, check you everyday on MTV..."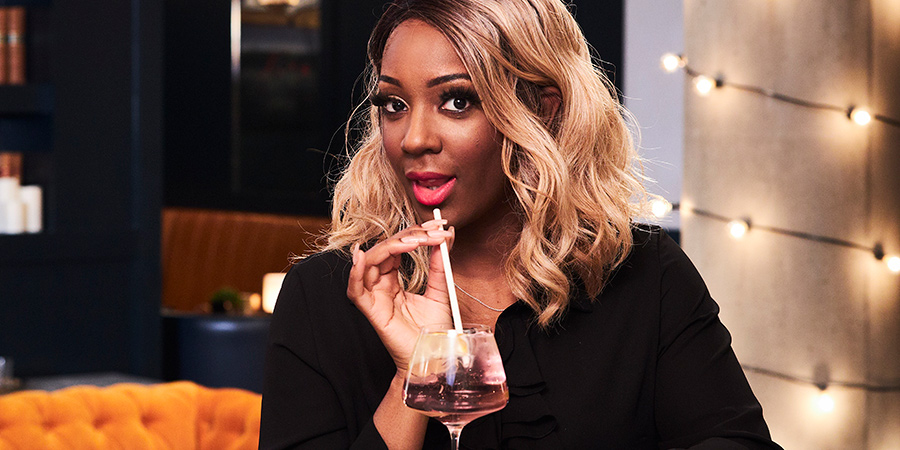 What's the most regrettable thing you ever bought?
I once bought a franking machine from Vistaprint. I decided I was going to be a businesswoman and thought it would be a good investment. I barely knew what it was for, but I knew I needed it. It's fair to say that it didn't get used so I was forced to send it back, which I am still fuming about. That could have come in handy one day.
Which low-key law would you introduce, to make life better?
I would introduce a law that would allow me to issue people that eat loudly, and/or with their mouth open when around me, a 5000 dollar fine. YES 5000 DOLLARS. Issuing someone with a 5000 dollar fine rolls off my tongue better than 5000 pounds.
What's your favourite bit of furniture?
My favourite bit of furniture has to be my bed. I love a good nap at any time of the day so if I am at home working, I'll stay in bed. That way I can nod off whenever I want! DON'T JUDGE ME... Please.
Is there a book or film that changed your life?
It has to be The Power by Rhonda Byrne. Mainly because it taught me not to sweat the small stuff. And to honestly and wholeheartedly give thanks and gratitude for everything. It also taught me that wanting to help others and see others grow wasn't a sign of weakness, as I have been told it was in the past. Thanks, THE POWER!
Which place you've visited was the biggest disappointment?
After seeing so many films and TV shows based in New York I really thought it was going to be magical, something special. But instead, it was pretty grotty and run down. Now thinking about it, maybe it's because I was in the hood.
What TV show would you love to have been in, and which part?
I would have loved to have been one of the twins in Sister Sister. Annoyingly I'm not a twin. But nowadays a bit of make-up and contour can make me look just like Tia.
I would love, love, love to be a judge on Drag Race UK, or even dress up in drag.
Your most interesting injury?
Hmm, that's a hard one. I don't know if it's an injury, but I once got a keyring stuck in the gap of my two front teeth. Pretty embarrassing trying to slyly unwedge it in a room full of people.
Interesting 'fact' I heard, if you can fit a pound coin in your gap it means you are going to be wealthy. I can fit three pound coins, so where's the money? Tooth fairy, where is my wealth? I have had this gap since I was two year's old and I am still waiting.