Thanyia Moore
One random comedian, eight random questions; it's the ultimate test of funny person and fate.
This week it's a hearty welcome to Thanyia Moore, the excellent South London comic who launched herself firmly famewards a few years back, by joining the starry club who've won the Funny Women award. (Previous inductees: Katherine Ryan, Sarah Millican, Desiree Burch, etc. Good company.)
Right now Moore would probably be busy previewing her debut Edinburgh Fringe show, if 2020 hadn't turned out to be such a disaster movie. But she will be taking part in the NextUp Comedy Festival, which is also talent-packed and runs throughout July on whatever device you're reading this. That show will go live on July 25th - but what'll happen?
"I'll be doing stand-up for around 40 mins," she says. "And playing a game/quiz."
Good times. Thanyia Moore, your Random 8 await: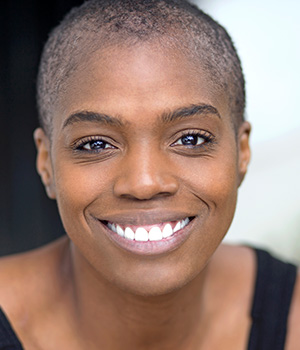 What was your childhood career dream?
I wanted to be an actor - and I'm still in that place!
Which historical figure should get more attention?
None of them. Let's look to the future. The past sucks.
What's the best thing in your wardrobe?
My steam iron. I've left it on the shelf above the clothes to encourage me to iron them. It doesn't! But it looks good when people see it.
The greatest invention ever?
The mute button on Twitter. AMAZING.
Which film would you love to have been in, and which part?
I would love to have been in What's Love Got To Do With It - every stage performance scene! The dance routines are the best.
The worst journey you ever went on?
I don't think I've been on a 'worst' journey - as a comic, nothing is 'worst.' It's all material!
I went on a date with a DJ and, to look intelligent, he took me to a museum. WORST JOURNEY TO NOWHERE, ever.
What should be Britain's new national anthem?
The new national anthem should be:
'We're racist. We're racist. We're racisttttttttt and we're not going to stop being racisttttttttttt...'
Why? Because Britain is racist!
Which British town should be abolished?
Bath.