Susan Murray
One random comedian, eight random questions; it's the ultimate test of funny person and fate.
Utilising her return ticket this week is Susan Murray, Queen of Waltham Forest but increasingly travel-focussed recently; about bad trips, particularly. Murray wrote the show How Not to Die in a Plane Crash for the 2019 Edinburgh Fringe, and it's finally landing at London's Soho Theatre, next Tuesday and Wednesday (13-14 July).
"I'd originally planned to do one about my love of swearing called Potty Mouth," she explains, "but a morbid fascination of plane crashes and being scared of flying became one of my many Facebook themes (see also an irrational hatred of Olivia Colman, a rational hatred of the Highways Agency and a pathological inability to bake bread).
"A writer friend suggested I do one about my addiction to a documentary series called Air Crash Investigation. I wasn't sure I could write a show without people assuming I was being massively insensitive about people who've died, but it's possible to write about anything if you just come at it from different angles.
"The show focuses on my own weirdness and what amazing safety aspects the aviation industry have implemented over the years. It has genuine safety tips and amazing stories of survival. During Edinburgh one guy told me I'd cured his fear of flying."
And airline staff get a 20% discount (details below) - you don't get that with other shows.
"I have a real passion for the subject matter which everyone says really shines through. It's been delayed for about 15 months thanks to you-know-what but it's been a real pleasure adding post-pandemic gags, tightening up the whole show and having to address the fact that most flights were grounded.
"It was so quiet with no planes in the sky. Did you notice how loud bird song was? I could barely hear myself scream."
We hear you. Susan Murray, your Random 8 await.
Who is - or was - your most interesting relative?
There's a family rumour that we're related to Lord George Murray who was in charge of Bonnie Prince Charlie's Jacobite army but the fact that I'm from a long line of breadline-peasants would suggest otherwise.
I've got a first cousin that married Davey Crockett's great (x7) nephew which is true but tenuous so I'll just carry on pretending I'm Al Murray's sister.
When were you most embarrassed?
Oh God, I can still feel the burning shame. In 1988 I lived in a freezing cold shared house in London, so my mom (yes, in the Midlands we say mom: deal with it) bought me a bright red onesie to sleep in - this is the days before they were A Thing.
Late one night I heard my housemate come home with Other People so I decided to go downstairs and join them wearing said onesie. One of them was a fit long haired blonde guy who was chatting away and was telling my housemate his band were playing various venues. In my usual cocky manner I said "Oh yeah? What band are YOU in then?"
"The Wonderstuff"
I. Wanted. To. Die.
I had all their albums a foot away from me and had seen them dozens of times. Turned out my housemate when to school with Martin Gilks the drummer, who - to be fair - was hidden on stage. Maybe I'd have recognised him with a few cymbals in front of his face?
Which British town should be abolished?
Maidstone, in fact most of Kent. I always thought it would be the end of civilisation if you asked someone for a light for your cigarette and they said "No". And then this happened to me at a gig in Maidstone. Then he relented but made sure he'd turned up the flame in an attempt to burn my hair. Nice bloke.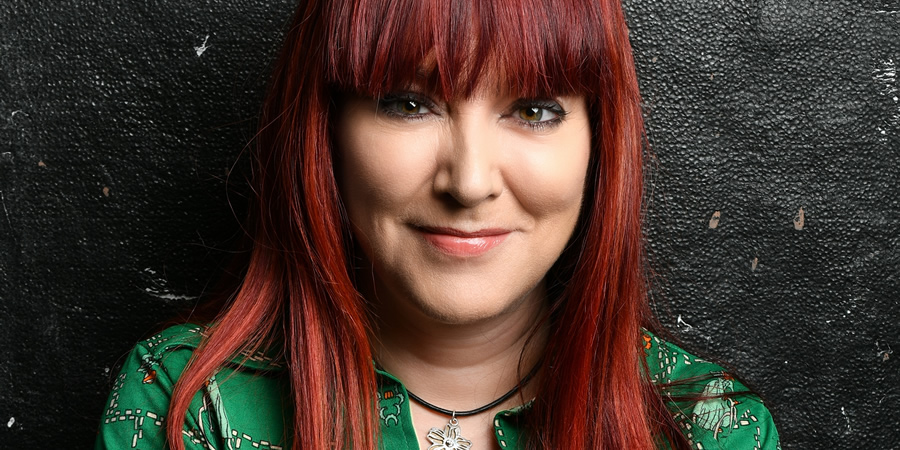 How do you feel about cats (the animal, not the musical)?
Much less smellier than dogs and their mouths are less rancid. I had an earless cat called Charlie - so called cos he was pure white, up all night and moody in the day.
White cats are prone to skin cancer due to no pigment protection so most end up with their ears lopped off. Eventually he died of lung cancer - I didn't even know he'd smoked.
It made him famous locally and his twitter account is pretty funny: @earlesscharlie.
What's your favourite fact?
In typical comedian ego-manic fashion I think it would have to be that the first woman to host any army decompression shows, after Vera Lynn, was me. True story.
Who's your ideal long-journey companion (loved-ones excluded)?
It would have to be my old mate Jeremy Hardy who was perfect, lovely, hilarious company as you'd imagine. Plus it would mean he was still alive. Top top man. He once accompanied me to a late-night bar I was having afterparty drinks at later for the annual Christmas Comedians' Drinks (I've been organising this for about 15 years).
The barman with spiky hair and skinny back jeans was properly furious he'd not been informed of what was occurring later on and I had to keep a straight face as Jeremy whispered in my ear "He's just pissed off cos his band didn't get signed in the '90s".
Jeremy and my cat died within weeks of each other. That was a terrible month.
What's the weirdest thing you ever saw?
On a train heading to gigs in Devon, we pulled out of Teignmouth and as we passed a field a few miles out of town I saw a man in a field with his trousers round his knees wanking at the train. Well you DID ask.
Do you have a signature dance move?
Yes I pretend I've got trousers by my knees and I mime masturbation to the Chattanooga Choo Choo.