Stevie Martin
One random comedian, eight random questions; it's the ultimate test of funny person and fate. This week's Stevie wonder is Stevie Martin, a enviable multitasker who has successfully turned her hand to journalism (for Grazia, The Guardian etc), thespianism (she'll soon appear in Sky's Breeders with Martin Freeman and Daisy Haggard), podcasting (more on that below) and live comedy, which is where we're at today.
Seasoned Fringe comedy watchers may well recognise Martin as part of Adam Riches talented ensemble in shows like Coach Coach and - yes - Coach Coach Two: Coach Harder. Now she's bringing her second solo hour, the acclaimed Hot Content, to the Soho Theatre in early March. What does that content involve, exactly?
"I have an excellently healthy relationship with social media," she explains, "and Hot Content is a bid to teach everybody how they can use it for good, not go mental, and take a leaf out of my book (which I'm reading on my smartphone)."
If you require hot Stevie Martin content right away, meanwhile, there is the aforementioned audio project.
"I also have a weekly podcast with comedian Tessa Coates called Nobody Panic," says Martin, "where each week we tackle a 'how to' question by researching tips and getting advice from experts in a bid to stop crying on buses. Recent ones include How to Make a Decision and How to Travel Alone."
Happy trails. Stevie Martin, your Random 8 await.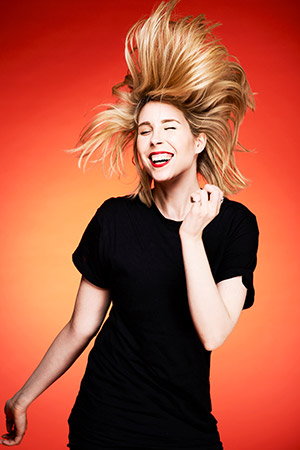 Who is - or was - your most interesting relative?
My parents are both the most interesting relatives I have, for different reasons. My dad's job is mad, he's a session drummer and has played with everyone from Aretha Franklin to Ant & Dec so has some great tour stories.
My mum is interesting because she went to university at 40 with two kids and basically taught us you can do whatever you want, whenever you want.
What book should we all read, to make life a bit better?
Carter Beats the Devil by Glen David Gold is SUCH a good book. It's fiction, not self-help, but your life can often be improved by not thinking about your life.
What's the weirdest thing in your wardrobe?
I have a banana costume, four baby's torsos and three fake ravens. They were cut from my Edinburgh shows but I can't throw them away because I feel sorry for them. I don't want them to think they've failed.
Ever walked out of a film?
Yes, I walked out of Free Fire a few years ago because some girls were taking selfies next to me with the flash on and the film wasn't worth putting up with that.
I stayed for the entirety of Independence Day 2. There is no consistency.
When were you most embarrassed?
When I did my first ever solo comedy spot and I was so bad. My friend said they had never seen a person look so scared. My hands weren't shaking, my entire arms were shaking. I've never been so scared that my upper arm is shaking before or since.
What's the best thing you ever drank?
I went on holiday to Lanzarote which I don't think I'd recommend, but they were serving a cocktail called Banana Island which was banana liqueur and something else and then they just sort of shoved half a banana in it and I was FLYING.
Which unsung town or city should more people visit?
You know what, I had a very nice time in Rotherhithe once. It's not really a town is it. Great Budworth in Cheshire near where I'm from is exceptionally beautiful. As is Beeston. We don't talk about Beeston enough. You can make candles there and everything.
Do you have a favourite device?
My boyfriend recently bought a robot hoover thing and I was quite against it, but it's actually pretty cool, like having a robot tortoise. Our actual tortoise is hibernating and I am concerned about the ramifications of her feeling we've replaced her with a bionic version.