Sean Morley
One random comedian, eight random questions: it's the ultimate test of funny person and fate. This week's regret-fuelled absurdist is Sean Morley, whose envelope-troubling but critic-impressing show I Apologise for My Recent Behaviour is at London's VAULT Festival on the 22nd and 23rd, then touring. But can you ever forgive him? And what for?
Let's see how this Q&A pans out. Sean Morley, your Random 8 await.
What was your childhood career dream?
My singular ambition as a child was to operate a street sweeper. I'm not sure they're as common anymore but our council used small vehicles you could sit in with colourful rotating brushes on the front. My lifelong pipe dream was to provide a visible and concrete public service while not being expected to interact with another human soul.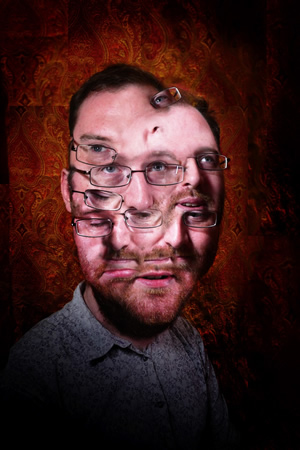 Who's the most interesting person you've ever met?
A certain ghost-tour guide whose name and location I won't reveal because I want to maintain cordial relations should I ever revisit the ambition to make a documentary about him. He's convinced he invented ghost walks and, according to multiple TripAdvisor reviews, spends more time insulting his rivals on any given tour than talking about history or ghosts. Watch this space.
What's your favourite fact?
Uri Geller owns a patent in America for a reality game show where parents can compete to adopt the children of their choice with a unique online public voting system.
Ever walked out of a film?
I would never. If you're in company then a bad film is exceptional conversational fodder and if you've gone to the cinema on your own then something else has already gone wrong and leaving the film prematurely won't solve it.
What's the weirdest thing you ever saw?
The comedian and performance artist Barnaby J Thompson screaming "Sigourney Weaver" into a loop pedal for approximately 40 minutes in front of a venue manager who was having doubts about whether my night was reaching a wide enough audience.
Which historical figure should get more attention?
Laika, the Siberian husky that became the first dog to die in space.
What's the best (non-comedy) room you've ever been in?
I popped into the nave of Cologne cathedral when changing trains and it knocked my block off. Big respect to piety - its visuals are off the charts.
Which low-key law would you introduce?
Communism.