Sarah Pearce
One random comedian, eight random questions; it's the ultimate test of funny person and fate. This week we welcome Sarah Pearce; comedian, therapist and co-founder of the general force-for-good that is Angel Comedy, who may well be drawing on all of those roles this week.
This very Tuesday - 23rd March, the first anniversary of lockdown - Angel Comedy and comedy/mental health pioneers Objectively Funny are launching The Best Medicine Festival, a week of events exploring comedy and mental health, sponsored by the award-laden UKTV channel, Dave. Tickets are all pay-what-you-can, but how did it all come about?
"Martin Willis from Objectively Funny and I were having a chat about putting on a couple of workshops for the comedy industry," Pearce explains. "By the end of the chat it had morphed into this whole week of events - workshops, a panel with Ruby Wax, and a massive fundraising gala!"
These things do spiral. That gala is on Saturday starring Tim Key, Sindhu Vee, Felicity Ward and other top talents, there are umpteen shows and workshops across the week from splendid people like Cally Beaton and Ben Target, and - tonight - it's that comedy and mental health panel discussion, with Wax, Willis, comedian/psychiatrist Dr Benji Waterhouse, Kemah Bob and Ahir Shah. Which all sounds thoroughly entertaining, enlightening, and extremely timely.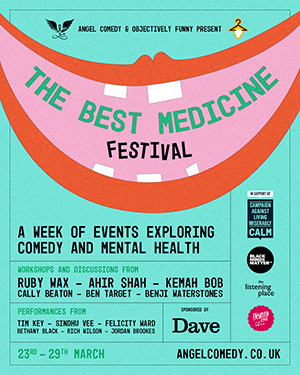 "It's an important time to start asking questions about mental health I think, with venues (hopefully) opening again soon," Pearce agrees. "Some people will have really struggled this last year. Others will have had quite a peaceful time, but might be feeling anxious about getting back to 'normal'. We're hoping the Best Medicine Festival might start to name some of the difficulties that people face, and explore ongoing support that the industry could offer."
An excellent initiative indeed. Sarah Pearce, your Random 8 await.
Who was your childhood hero (real or fictional)?
Buffy! I really wanted to fight vampires and have boyfriends when I grew up. Looking back, I reckon it would have probably been a bit stressful though. I'm glad I wasn't The Chosen One in the end.
Which book should we all read, to make life a bit better?
The Day of The Triffids is my go-to comfort book. Something about the whole world going blind just makes me relax. Although, to be fair, I've not really fancied it since the world *actually* ended.
Your most interesting injury?
A scar on my hand from trying to scale a fence in America. I was 20, and wanted to sneak into the club to drink - ended up in ER. God, that's boring. How do people usually answer this question? Shark attacks and skydiving injuries?
What's the greatest invention, ever?
Takeaways! I *love* takeaways! When were they invented? When did people start making food for other people and delivering it to their house in exchange for money?
I've just googled it. Ancient Greece, apparently.
Which low-key law would you introduce, to make life a bit better?
I was thinking maybe 'make therapy mandatory', but that's a terrible idea. The whole point of therapy is for you to be an active participant; I'd hate it if I felt my clients were only there because it was the law. Hmmm... ok, I'd make it a crime to say 'Cheer up love, it might never happen'.
Who's the most interesting person you've ever met?
My two year-old daughter. It's probably a hormonal thing, because I do understand - objectively - that her saying 'bubble' for the first time isn't that interesting. Sometimes the veil lifts, and I find myself feeling bored out of my skull, but then she farts or something and I'm besotted again. It's weird.
What's your favourite mode of transport?
The train! As long as I'm sitting forwards. I get sick in everything else, and I'm too lazy to walk. I can sleep or read on the train, it's lovely. I went on the Trans-Mongolian railway when I was younger, so maybe all other trains take me back there.
Which faux-pas still gives you nightmares?
Me and my partner were out with the comic Erik Pohl and his wife, about to go to see some stars from Ru Paul's Drag Race perform. A combination of needing babysitters and half of the group being comedians meant that this was a BIG deal - we hardly ever got to go out.
I remember Erik cheerfully said to me 'what do we owe you for the tickets?' and my blood ran cold. I'd thought he'd got them.
We no longer talk.