Sara Barron
One random comedian, eight random questions: it's the ultimate test of funny person and fate. This week's erudite entrant is Sara Barron, who modern industry folks would probably refer to as a multi-platform humourist, although that sounds like the bloke on the train station PA who tries to lighten the toxic mood with a few gags and nearly causes a riot. Basically she's funny on the page, and now also the stage.
Now living in London, Barron made her name in the US as a writer - her two essay collections, People are Unappealing and The Harm in Asking would no doubt be fine additions to any festive stocking - and live storytelling eventually led to stand-up. Her debut Edinburgh show, For Worse, went rather well too, earning a Best Newcomer nomination in August, and she'll be taking it to the Soho Theatre from January 22nd.
But what's the most excellent room she's ever been in? And where do you get on-demand cheese? Sara Barron, your Random 8 await.
What's the best thing you ever wrote?
As an American who's lived in Britain for six years, I have to point this out as a deeply American question. You want me to brag? Is that what you're asking? I moved across an ocean to get away from a culture that encourages this sort of self-aggrandizement BUT IF YOU ABSOLUTELY INSIST:
I have a joke about people who refer to either their spouses or mothers as best friends that I'm quite pleased by.
Et aussi, I wrote a bizarre pornographic play when I was 13-years-old, and it's arguably one of the strangest and, therefore, most spectacular bits of literature around.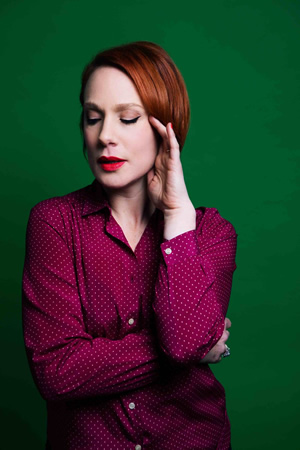 Is there a book or film that changed your life?
Me Talk Pretty One Day by David Sedaris and Portnoy's Complaint by Philip Roth both, in different ways, made me want to write funny.
American Pastoral, also by Philip Roth, has some of my favorite stuff ever written about the value of self-awareness.
On Beauty by Zadie Smith has a paragraph about a sibling bond that, when I read it, makes me think I want a second baby. Even though, consciously, I don't think I want a second baby.
All the Light We Cannot See by Anthony Doerr has, among other things, an excellent sentence on bravery that's become my very private mantra for if/when I get nervous for a gig.
A particular sentence in The Fran Lebowitz Reader helped me justify both (a) my own nosiness, and (b) my taste for blue material.
The Bill Hodges trilogy by Stephen King entertained me during what I now understand to be a light-to-medium case of post-partum depression, and for this I remain forever grateful.
What's your favourite mode of transport?
If we're talking in London, where I live, it's the overground train, no question.
If we're talking more broadly, however, there was one precious occasion when I flew business class from Heathrow to New York, and included in this experience was free cheese. I swear to god, you can just be, like, "Excuse me, could I have another helping of the cheese, please? But just the blue one? I'm not interested in that basic bitch of a cheddar included in my previous helping". AND THE FLIGHT ATTENDANT TOLD ME YES. I swear. He just brought me more blue cheese.
I think about it even now, every time I need a little pick-me-up.
Which historical figure should get more attention?
In the 1500s there was an English noblewoman named Bess of Hardwick, who you've probably never heard of, but she was the tiniest bit famous for being, in effect, a shrewd business woman.
I mention her because, if styled correctly, I look quite strikingly like her, and I have this little daydream that Lin-Manuel Miranda decides to do his next musical about her, and - based on my resemblance alone - I score an audition. I score the role too, of course, because in addition to my Bess of Hardwick resemblance, Lin-Manuel is blown away by my high levels of charisma.
It's all very Lady Gaga and Bradley Cooper at the beginning of A Star is Born, and we wind up together in the end, Lin-Manuel and I, at which point I take a few more business-class flights and enjoy a few more free-of-charge, bespoke cheese plates.
What's the finest (non-comedy) room you've ever been in?
Anywhere with a claw-foot bathtub.
How do you feel about cats?
Medium.
Do you have a favourite device?
I'm very tempted to tell you about a certain sex toy that I have that's nicknamed 'Little Riz Ahmed', but it all feels quite TMI sharing that on the internet, right? In which case, let's go with this instead:
I have an expensive knife, and using it to cut a perfectly ripe aubergine is almost as satisfying as anything to do with the aforementioned Little Riz.
What's the very best thing you ever saw?
Anything to do with unlikely animal friends is always tough to beat. I mean, I've given birth and looked into my baby's face for the first time, and I'm not convinced it was as good as seeing a gorilla snuggle a kitten.
That said, I once saw an especially annoying-looking hipster trip down a step and try to act like it hadn't happened, and the whole thing created a beautiful warm feeling in my chest that lasted the rest of the day.