Rachel Fairburn
One random comedian, eight random questions: it's the ultimate test of funny person and fate. This week's killer contestant is Rachel Fairburn, who you may well have heard musing about multi-murderers on the popular podcast All Killa, No Filla, with Kiri Pritchard-McLean. And now you can download her stand-up at home too, via the fine folks at Go Faster Stripe.
"Her Majesty is my 2017 show and it's about the strong women in my life and I'm convinced this is why all my role models are male rock stars," says Fairburn. "I love Keith Richards, Paul McCartney and Liam and Noel Gallagher. It's also about the pressures on women to be a certain way and how some still conform to particular stereotypes."
Right. Rachel Fairburn, your Random 8 await.
Who's your most interesting relative?
I'd say my dad as I know absolutely nothing about him apart from his name, date of birth and the fact that he is Welsh. He's not an absent father or anything, he's still married to my mum and I see him loads but he's just such a closed book.
I don't mean this in a bad way either, he just never tells us anything about himself. It's absolutely fascinating. I'm positive that he will one day tell us something incredible like he knows what happened to Shergar or he's actually Jesus.
What's the best TV show that most people have never seen?
Eerie Indiana. It's a show I used to watch as a kid. I still watch it now and it's ace.
Your most disastrous holiday?
My dad won tickets to some big rugby game in Perpignon in France. It was for three days in a luxury hotel. I went with him and he couldn't have the hire car as promised. He drives for a living and objected to being chauffeur driven so decided he wanted to go home.
Long story short, I visited Perpignon, Barcelona, Liverpool and Manchester in 26 hours. I was so embarrassed that I pretended I was still away to my mates and basically just hid in my Gran's spare room 'til I would have been back.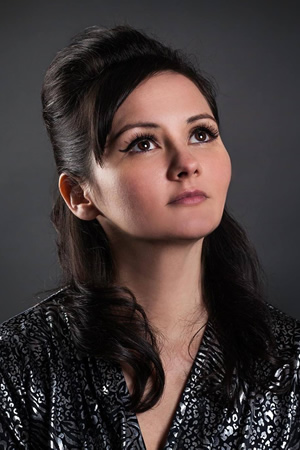 What's the greatest email you ever sent?
Before I was a full-time comedian I was working in a rare books library. My boss was one of the most odious and incompetent people I have ever met. A real middle management bully.
I was doing open spots at the time all over the UK while working full time. It never interfered with my day job. I ended up being off work for a week with tonsillitis and when I came back she sent me an email saying my 'little outside hobby' was affecting my job.
I replied saying her claims were erroneous and I couldn't gig if I had no voice, could I? She backed down and I felt like an absolute god. It's not often you can use 'erroneous' in a message. I heard recently that she refers to me as 'The Attitude' which I love. I also love the fact my 'little outside hobby' is now my career. So sweet!
Which British town should more people visit?
It's a city, but Liverpool. I love it. It's just really cool and I love The Beatles so it's all good by me.
What's the most extreme thing you've ever done?
I'm a very cautious person really. I've got OCD so like to have consistency. I have to say though, my 2018 show is about the worst year of my life when I did loads of impulsive stuff. I moved to London from Manchester within three weeks of deciding to, I made mad relationship choices and ended up massively depressed. I'm fine now, and to be fair it made for a cracking show.
Who's your ideal long-journey companion?
Liam Gallagher. I'm a massive Oasis fan. I love both the Gallaghers but I think I'd really get on with Liam. I think we have a similar interests and sense of humour. Either that or we would clash massively. Would be nice to find out whilst trapped on a 24-hour flight.
What's the very best thing you ever saw?
I went to see Barry Manilow in Las Vegas a few years ago. At one point he was dancing and went under the stage on a podium and within seconds his traditional tuxedo had become a sequinned one. Amazing. I also met one of my heroes Noel Gallagher and I watched him drink a cup of tea. I was spun out cos he leaves the teabag in like me.