Poppy Hillstead
One random comedian, eight random questions; it's the ultimate test of funny person and fate. This week's multi-talent is Poppy Hillstead, who is absolutely bossing both the audio and the visual right now.
First up, audio, and having already made a splash with the Gossipmongers podcast (alongside Joe Wilkinson and David Earl) she's about to launch a noteworthy new one: Poppy Hillstead has Entered the Chat.
"The concept of my podcast is I go into internet chatrooms, I talk to real people, then me and some guests re-enact the conversations I've had for the listeners at home," Hillstead explains.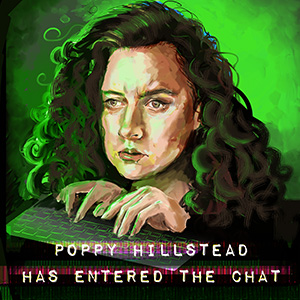 "I went into this knowing that there would be some filth, I mean I'm talking to strangers on the internet. But I thought, despite that, that there might actually be a couple of sweet moments. Maybe I could really bond with some of these people. This could be one of those podcasts that make you laugh AND make you cry.
"But, I'm going to tell you now, there is none of that. It's 100 percent absolute, manky shit."
The best kind. If you're wondering about the podcast's absolutely non-manky artwork, that's the aforementioned 'visual' bit, as Hillstead is also a dab-hand at classy daubing. Those are her creations on posters for Ed Aczel, Brian Gittins, Russell Hicks, even Inside No. 9.
For those picky folks who like to both hear and see things, meanwhile, there are a bunch of rather good animated skits worth checking on Poppy's YouTube page, too. Multi-sensory stuff. So what else has she been up to?
"Other than doing the podcast, all I've really done during lockdown is stare out the window and watch seagulls outside attack anyone who comes near their young. A seagull chick got stuck in a drainpipe the other day and a 'rescue' bloke had to come and poke it back on the roof with a giant hook. That's been my highlight of lockdown."
You can't beat a strong hook. Poppy Hillstead, your Random 8 await.
What was your favourite TV show, growing up?
My mum found a Russian cartoon called Nu, Pogodi! in a bargain bin. I used to watch that loads. It was basically Russia's answer to Tom & Jerry. Instead of a cat and a mouse, it was a hare being chased by an aggressive, chain-smoking wolf.
Who are you most envious of?
I'm envious of people who write shit lyrics in songs and just go with it. Like Drake in a Rihanna song has a lyric that goes 'If you had a twin I would still choose you'. I really like how crap it is.
Do you have a favourite shop?
COCORO in Highgate and Katsute 100 in Angel. Which are not exactly shops (they're a restaurant and tearoom, respectively), but you can buy stuff at them. And I like Off the Beaten Tracks records in my hometown, Louth.
Who's your ideal long-journey companion?
My best friend Linda Dodge. Known each other since we were two years old.
If we were on a plane though she'd fall asleep straight away leaving me to sweat and stare intently at air stewards' faces, checking for any signs of fear, any signs that there was something wrong with the plane and they were trying to put on a brave face cause we were definitely going to crash and all die. Basically the journey would be hell for me.
What's the weirdest thing you ever ate?
When I was in Tokyo someone gave me what looked like a white tongue. I chewed on it for about an hour. Got stuck in my throat. I have no idea what it was. Asked my friends from Japan about it, none of them know what it was. Could've been anything and I just ate it.
Who was your first celebrity crush?
I fancied the wolf from Nu, Pogodi!
But also, when I was young, I used to play Terry Pratchett's Discworld 2 on Playstation. For some reason, I was super into the main wizard guy in it. Thought his voice was hot. I brought this up to some friends the other week and apparently, the wizard in the game was voiced by Eric Idle. Not sure what I think about that.
Which live event would you most like to have attended?
Apparently, there was this dancing plague that happened sometime centuries ago, where basically loads of people started manically dancing, couldn't stop and then they just ended up dancing themselves to death. I'd like to see that. Not to see the death, or because I want to dance myself to death... I'm basically just saying this so I have something more to say than just 'Blur gig'.
When were you most embarrassed?
God, so many horrendous humiliating things. Maybe all too horrible to bring up.
I got a magpie out of a magpie trap once and it bit my finger really hard and I chucked it in shock and it flew away. I felt like, angry and embarrassed about that 'cause I was trying to help it.
I won't bother next time.