Paul Revill
One random comedian, eight random questions; it's the ultimate test of funny person and fate. This week's host with the most is Paul Revill, the excellent comic and compere who's much admired in the business for being the king of downtown Bedfordshire. Well, he runs some cracking gigs called Castle Comedy, basically. And it's a hectic festive season for them.
"Castle Comedy is doing five Christmas Specials across its two venues," says Revill. "That's the most shows we've done for Christmas, but last year we sold out four so we're going all out. There will be mince pies, chocolates, party poppers, games..."
And, of course, top comics. "In Bedford you can see a combination of Jarlath Regan, Alistair Williams, Stefano Paulini and President Obonjo on December 12th, 13th and 19th. The show on the 12th is particularly special because we are raising money for the SMART Prebend Homeless Centre in Bedford, and one person will win a pair of unlimited tickets to every show in 2020!"
Nice! Then in Biggleswade they've got Rob Deering doing his loop-laden music party on the 9th and 16th, plus guests, while for non-Bedfordians, Revill will also be MCing at the suitably-named Stand Up Club in December, in London; the southern Biggleswade, as they call it.
Paul Revill, your Random 8 await.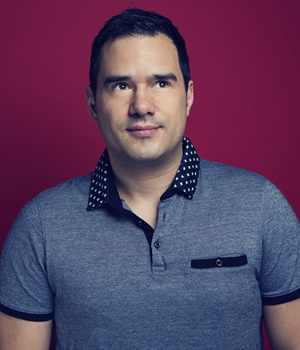 What was your favourite kids TV show, and why?
Inspector Gadget. Brilliant theme tune. Gadget was part man and part cyborg (this is before Arnie did Terminator) which is awesome but he still managed to be hilariously inept, foiling the villain by blind luck. Looking back, Gadget was clearly influenced by Inspector Clouseau. Plus, it had Chief Quimby... what a name!
Who was your first celebrity crush (and ever met them)?
Kylie Minogue, and no. Although whilst promoting Budget Car Hire at Heathrow Airport I handed Angelina Jolie (a later crush) a paper rose. I bottled writing my number on it. What a choice she could have had, Pitt or Revill...
What was your worst ever day at work?
Not writing my number on a paper rose on Valentine's Day at Heathrow Airport.
Which unsung British town deserves more attention?
Bedford and Biggleswade, of course...
What's the best thing you've ever bought a ticket for?
An Emirates business class ticket to the Maldives for my honeymoon. Silly expensive but what an experience, having a drink at a bar at 40,000 feet before going back for a sleep on a seat that turned into a bed!
[Editor's note: for our extra question 'Who's the most interesting person you're ever met,' Paul put 'My wife, Amy,' which is nice. And possibly the first time anyone's chosen their other half, which probably says a lot about comedians...]
Your greatest sporting moment?
I won my golf club's junior championship. My first and only trophy.
Ever relieved yourself somewhere memorable?
As a teenager I went to see Ocean Colour Scene at The Sanctuary, Milton Keynes. I was right at the front, bouncing and moshing to OCS in their Riverboat Song pomp, when the five pints of cider and blackcurrant caught up with me. There was no way I'd get back to the front of the stage if I left... a short pause, a sigh, and back to bouncing!
What's the oddest thing you've ever eaten?
Parsnip sorbet as a transition course in a posh restaurant... it's not for me.