Melinda Hughes and Lenny Beige
One random comedian, eight random questions; it's the ultimate test of funny person and fate.
This week it's a four-legged groove machine, as gifted singer/satirist Melinda Hughes teams up with legendary lounge-botherer Lenny Beige (and a full band) for the Christmas Ding-Dong at London's Zedel on 20 December. So what exactly does that involve, for us Ding-Dong virgins?
"The show's title should be pronounced in Leslie Phillips' accent for full effect," says Hughes. "I can only speak for myself; my dings are a-dinging this Christmas and despite us living in the #metoo era, I hear that Lenny's dong gets particularly excitable during the festive season. I believe it has something to do with that extra splash of Kouros he allows himself before stepping on stage."
And Mr Beige?
"My people's festival of Chanukah is late this year," says Lenny, via his intermediary, Steve Furst, "so I am forced to hijack the Christian festivities and get my ding-dong on. I have it written into my contract that there is no singing of carols for me, but I am more than happy to embrace other seasonal offerings and doing this seasonal sing-song ding-dong with someone as fabulous as Melinda is a joy.
"Oh, contrary to what she might say, I do not and have never worn Kouros."
What does he favour?
"Pagan Man or my own signature fragrance, Lenny Beige Pour Homme (avec beaucoup d'argent)."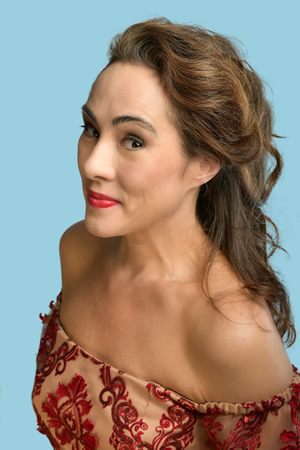 Spicy. And what are Melinda's plans for next year?
"In 2020 I will be jetting off to Barbados in January and March where I am curating a small festival called Cobblers Live," she says. "We have Rory Bremner, Rachel Parris and Marcus Brigstocke performing. I even hung out with Russ Abbot and Cliff Richard!"
Now that's a festive duo. Melinda Hughes and Lenny Beige, your Random 8s await.
What's your weirdest Christmas memory?
Lenny: I was appearing in pantomime at the Frinton Winter Gardens with a young Phillip Schofield, Gordon the Gopher, Dollar, Trevor Eve, Tony Hart and Rula Lenska.
The venue is unique in that the stage is four flights up from dressing room level so one is allowed to take the lift. However a mechanical fault on Christmas Eve forced us to all see in Christmas Day cooped up together in that tiny space. It started out good natured but ended up like a terrible episode of Tenko (look it up).
Melinda: My mother insisted I travel down to France one year to spend Christmas with her. She had cooked dinner for eight people and no-one turned up. Apparently they were all policemen and had to attend an emergency. We watched BBC Gold and drank a jeroboam of red wine.
Do you have a favourite device?
Lenny: I haven't never enjoyed a wet shave, but having very sensitive skin I have always used a Philips Ladyshave for my day to day grooming regime. It has served me well. A gift from Lyndsay de Paul back in '87.
Melinda: I know what Lenny's favourite device is and he's not telling the truth! I, on the other hand, am very fond of my mini vocal nebuliser. It was a godsend in Edinburgh during a 25-show run. I use it for my throat, not anywhere else, despite Gwyneth Paltrow's advice.
What's the most interesting thing you've ever eaten?
Lenny: I once had to eat humble pie and it didn't sit well with me. I rarely put a foot wrong, so it's almost never on a menu that I have to read.
Melinda: I've tried durian fruit in Singapore: it was the most disgusting thing I've ever eaten, however the leftover potato latkes Lenny brought into the dressing room last week came a close second. His secret ingredient is marmite. It simply doesn't work.
Ever met a particularly great/awful celebrity?
Melinda: My father was a film director so I've met a few in my time, but sitting on Lou Ferrigno's lap during a break in filming an episode of The Incredible Hulk was a career highlight.
Lenny: I once sat on Lou Ferrigno's lap during a break in filming of an episode of The Incredible Hulk. I was guest starring as an evil lawyer. He was always happiest with someone on his lap.
Your most interesting injury?
Lenny: I am known as a particularly lithesome and supple performer. However I am not immune to injury. And these are largely high-kick induced. I have had all manner of groin strain and now need ample warm-up time but, most importantly for a man of my bendiness, the warm-down regime.
Melinda: I got bad callouses on the front of my feet after a three-month tour singing Madame Butterfly in the states. I spent most of the production kneeling. It took about two years and many bottles of bio-oil for them to finally go away.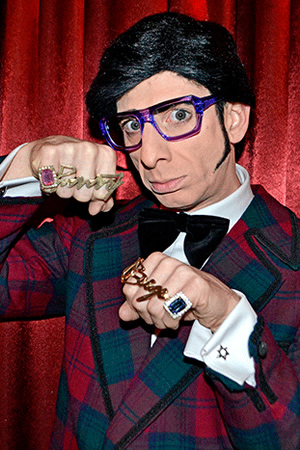 What's the most extravagant thing you've ever done?
Lenny: Extravagance is my middle name (it's Polish I think). But it informs everything I do. I love to lavish. I once wooed former newsreader Jan Leeming with a life-size ice-sculpture of myself reclining on a tiger. It was left in her back garden as a surprise.
Sadly this was in July and she was away filming an episode of the Holiday programme. The only thing she saw of it was a damp patch on her astroturf lawn.
Melinda: Lenny and I were doing a gig in Skegness back in the late eighties. He was mobbed by a group of women on mobility scooters. I bought them all scratch cards in order to divert their attention so we could get out alive, then I booked a taxi at great expense to drive us at speed to our next venue in Grimsby. We were chased along the A1029 by OAPs.
Do you have a signature dish?
Melinda: I make a very good chicken soup. It's my grandmother's recipe. I bring some into the dressing room on a Friday night for Lenny. He's usually flagging by Friday.
Lenny: I don't cook (I have a man that does that for me) but I am very fond of the Langan's Brasserie signature lobster bisque. Although, since burning my mouth very badly on Melinda's chicken soup I have found I can taste almost nothing.
Ever walked out of a film?
Lenny: I walked out of the first cut of I'll Sleep In The Wet Patch, Darling a film that starred myself, June Whitfield, and a young Trevor Eve. It was horrendous. I am glad to say the re-edit was MUCH better and it went on to become something of a cult classic.
Melinda: I walked out of A River Runs Through It. Rather, my best friend and I were thrown out of the cinema. We were very badly behaved.
I rather liked I'll Sleep in the Wet Patch, Darling. It reminded me of our trip to Skegness.