Masud Milas
One random comedian, eight random questions: it's the ultimate test of funny person and fate. This week's bold participant is Masud Milas, the proud owner of comedy's coolest coat, although having that as your signature look must be a drawback during a heatwave. No wonder he's popped up to Scotland.
Milas' new show Masud Abides is a thoughtful look at his place in modern Britain, from fitting in with pals to hassle from the police. For most of August his abode will be Edinburgh for the Fringe, notably the Mash House every evening at 7:40pm, where a ticket will set you back a fiver. Or whatever's affordable, if seats are available.
We can all abide that. Masud Milas, your Random 8 await.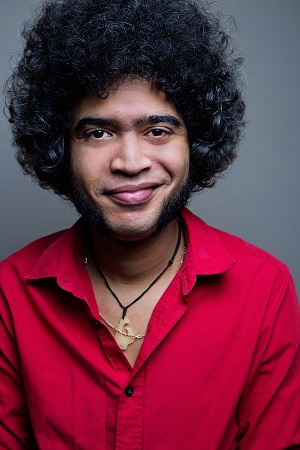 Who was your childhood hero?
Marty McFly. He's friends with a nuclear scientist. Travels back in time, screws up his parents' meeting, has to fix it, plays guitar while he's being literally erased from his existence, drives a car into a wire suspended by two lampposts in time with a lightning strike and most of the time he's pretty level headed.
Your worst cooking disaster?
I tried to make cinnamon buns and I got the mixture wrong so I ended up making flat, undercooked, burnt, floury cookies that tasted like baking paper.
Do you have a favourite device, ever?
I'm a big fan of technological missteps so I'm going with the MiniDisc player. What a majestic failure. Bulky, fiddly and a tiny music library, not to mention its terribly-timed release about the same time as MP3 players. I hope future generations find only MiniDiscs and try to piece together the past from copies of Fatboy Slim and the Mask of Zorro soundtrack.
What's the weirdest thing in your wardrobe?
I bought a Cossack hat because I read somewhere that you lose a lot of heat through your head.
I later found out that's garbage and so now I have an expensive hat that looks like my hair.
Which British place should get more credit?
Newcastle, everyone there is pretty friendly and they have some sweet cocktail bars. Also this:
What's the best job you've ever had, aside from stand-up?
I was an extra on a movie called Pan, which was a lot of fun. Just stood around dressed as a pirate and occasionally shouting "Arrrr" and every once in a while running on a ship with explosions going off.
How do you feel about cats?
I'm a dog person.
What's the most interesting room you've ever been in?
I had a high school friend who would never let us into his room. Any time we went over he'd stick his head through the crack and then slide out and shut the door really fast. To this day I have no-idea what's in there.