Mark Watson
One random comedian, eight random questions; it's the ultimate test of funny person and fate. This week we've some extra special random goodness as Mark Watson is with us, ahead of an epic weekend of gigs that he's both behind and in-between - you'll see what we mean.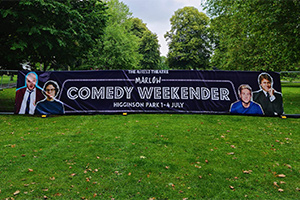 It's the first Marlow Comedy Weekender, kicking off tonight in a lovely big Berkshire park, with - wait for it - Russell Howard, John Bishop, Simon Amstell and Al Murray, plus Angela Barnes, Shappi Khorsandi, Darren Harriott, Laura Lexx, and more. Dylan Moran, for one. Crikey.
So what's Watson's role in this starry sandwich?
"A starry sandwich indeed, the best kind of sandwich. I've been programming these shows for a while now, with my company, and I do think they're some of the strongest line-ups anywhere in the country since this bit of bother with the pandemic (which I'm sure your readers will have heard about).
"I feel comfortable saying that because I'm a mere cog. My job is to MC (on three of the four nights) and basically enjoy the comic talents of others, in what is being advertised as beautiful summer sunshine but that is very much not guaranteed."
It will be fine, either way. And what else is Mark keen to mention, aside from Marlow?
"As for plugging other things, I've got a podcast called Menkind, co-hosted with my friend Michael Chakraverty, which I'm quietly proud of. You may well feel you don't need another podcast in your life, but it's a slightly unusual one. For now, though, PLEASE COME TO THESE SHOWS."
He makes a strong case. Mark Watson, your Random 8 await.
Who was your first on-screen crush - and ever met them?
One of the Fraggles - Red. She had a great personality and was always looking out for other people. Fancying a non-human cloth character limits your opportunity to meet your crush, though, obviously. Later on there was Jennifer Aniston, and I also haven't met her - it doesn't seem to be a priority for her at the moment.
Your greatest sporting moment?
Surprisingly, I do have a 'serious' answer to this: a few years ago I ran the Berlin Marathon. I trained for months and made it through, slowly, but all the same. It was an amazing day, but to judge by the way my chest felt at the end, it will almost certainly remain my greatest sporting moment.
What's the weirdest thing in your wardrobe?
Recently I had to panic-buy an item for No More Jockeys (the online game I play with Tim Key and Alex Horne) and I got this waistcoat from a charity shop. It is many sizes too big and also, it's a waistcoat. It's too weird EVEN for a novelty weird outfit, and it'll almost certainly never be worn. But at least the charity got my money.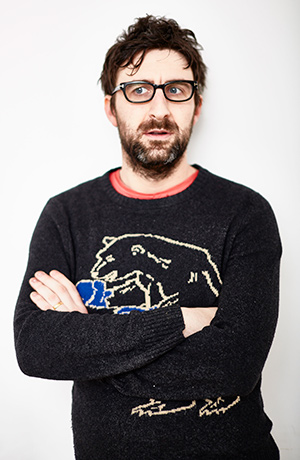 Your most interesting injury?
In my twenties, I had a pneumothorax, which is a collapsed lung basically - a little hole that opens up. It feels a lot like having a heart attack and I remember thinking 'I can't be dying, I'm 22'. It is more common in men, and in people with a lanky build, so if you look anything like me, watch out.
Which historical figure should get more attention?
I bang on about this a lot, but I think Chaucer ought to be held in the same esteem as Shakespeare. People sometimes act like Shakespeare basically invented the language, but Chaucer had laid the foundations two hundred years ago and his work is still relevant today, which is some achievement. This is the literary hill I will die on, except I don't think anyone cares enough to shoot me down from it.
What's the very best thing you ever saw?
My favourite sight on earth is Flinders Street station in Melbourne: the spiritual centre of my favourite city. But I also, as I have said on stage, once saw a pigeon fly right into a man's face. So take your pick between those two.
Your most regrettable purchase?
I once paid £24.99 for a phone charger at a station and it didn't work at all, but obviously I couldn't get a refund because I was back on the train when I found out. You may not think this deserves the number one regret, but I do think about it surprisingly often.
Who are you most envious of?
Any comedian who's doing better than me. And if any act gives you a different answer, they're lying.