Margot Przymierska
One random comedian, eight random questions; it's the ultimate test of funny person and fate. This week's komik - which is Polish for, er, comic - is Margot Przymierska, who's "been dabbling in theatre, live art and wedding business for a while now, and last year merged all these elements in my immersive one-woman comedy show Wesele/Wedding, directed by Patrizia Paolini".
That show gets a novel English/Polish double-header in London next week. The set-up? It's "the last Polish-English wedding before the borders shut," Przymierska explains. "I invite people to join in a semi-traditional/semi-fictionalised Polish wedding party with singing, dancing and vodka on the table."
Salut!
"The style of the show is not too dissimilar to how I actually emcee weddings, something I fell into a few years ago," our Poland-born host explains. Along the way she delves into gender stereotyping, and popular culture, "which can become a double-edged sword; on one hand it brings people together, on the other it fuels populism that is consistently getting Europe into trouble.
"In a way I ask about the price of a coherent society but hopefully it's a question that is asked in a playful way, which you can ponder as you drunkenly stumble home, still humming classic Polish disco bangers, asking yourself, 'what's just happened?'"
Pretty standard evening for us. Supported by Arts Council England, Przymierska has toured the show to "Brexit strongholds like Boston, Bedford, Thanet," and the Edinburgh Fringe, which definitely isn't one. And on October 16/17 it's on at the Streatham Space Project: there'll be one show in English, then "I will experiment with an entirely Polish version, which I already see will be a very different kind of show."
Margot Przymierska, your Random 8 await.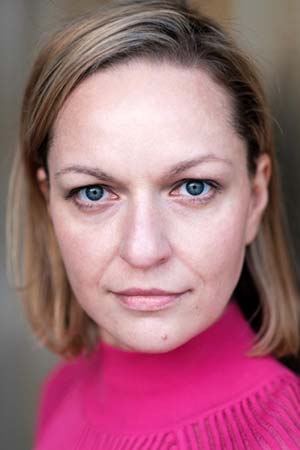 What was your childhood career dream?
I grew up in Poland in the '80s. TV of that time was full of soviet-inspired militaristic characters such as Janek - a hot blond young soldier in WW2. He was the leader of a team of tank-men and owned a German Shepherd dog - Szarik (apparently meaning 'a small ball' in Russian).
Janek and his crew spent their days de-Nazifying Poland and flirting with girls. So, when I was a child I really wanted to be Janek, hoping for a bit of that lifestyle and would practise shooting with a green pistol gifted to me by my dad.
I guess I didn't think about the flirting side much back then - it's something I envied much later on in my life.
Who are you most envious of?
People who can switch off their emotion. The cynical bastards. Damn you and your easy lives!
What's the best thing you ever bought a ticket for?
What I thought was going to be a ticket to check out an impressive seaside brutalist building in Ostend (Belgium) was actually selling my soul to enter one of Europe's largest casinos. Casino Kursaal takes up one hectare worth of space and is filled with elderly gamblers and a whiff of former glory which made the whole experience seem like stepping onto a film set.
Do you have a favourite museum?
It's Schaulager in Basel - the museum for contemporary art. That building is amazing!
Who's the most interesting person you've ever met?
It's the artist Mikey Weinkove of The People Speak collective. He's a total artist, the most intelligent person I know, and has the best dance moves. I love his uncompromising approach to art, which positions his work on the fringes of the mainstream and firmly in socially-engaged practises.
Do you have a signature dish?
Yes, it's a poached egg. I still have to overcome a repulsion for it though (looks like a foetus).
Which TV show would you love to have been in (and which part)?
I would love to swap with Seinfeld and hang out with George Constanza, Kramer and Elaine in his apartment. We would drink soda, talk about dating and occasionally pop out for a breakfast to the cafe near by. Get lots of top-ups of filter coffee. I've very simple expectations really.
What's the best word in your native language?
I think 'popielniczka' [pop-ee-el-nee-tsh-kah] sounds lovely. It means 'ashtray' in Polish.