Marcus Brigstocke
One random comedian, eight random questions: it's the ultimate test of funny person and fate. This week's mighty contestant is Marcus Brigstocke, whose tour show takes him down a high-concept new route.
"Devil May Care is a lot of fun to do," says Marcus, who'll be in character. "Lucifer is doing stand-up and he's good at it. He's got an interesting take on the usual stuff comedians talk about. He's full of pride and self-pity and he wants to talk to the mortals before they get sent to his theme park for the damned."
"Essentially - Hell is full and The Devil has come to plead with us humans to dial it down a bit. He doesn't want trivial sinners who can't forgive themselves because they've forgotten their 'bag for life' in the supermarket."
"He wants real sinners. The venal, nasty and corrupt. He wants the hypocrites and liars. He wants the people who would do anything to anyone just because it's good for them. He wants Boris Johnson."
And good luck to him. Marcus Brigstocke, your Random 8 await.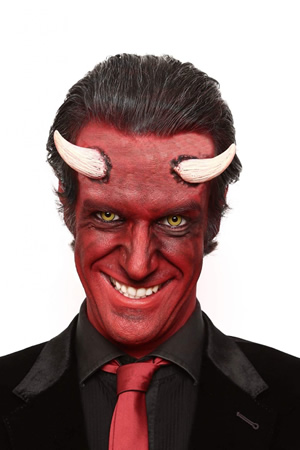 Who was your first celebrity crush - and have you ever met them?
Meg Ryan. No, I've never met her. I did meet Goldie Hawn who I also had a crush on. She was very nice. I was surprised though because she had got older in real life. There's very little way to tell that this happens to actresses but it does.
Do you have a signature dance move?
Yes. It was taught to me by a mate I met when I was 19. It's called Posting The Letter and it's HUGE.
What's the best creative idea you've ever had?
Probably this one. I love stand-up so being able to do it from a totally new perspective, outside my own experience is a treat.
Which film would you love to have been in - and which part?
Blazing Saddles. I would like to have been Gabby Johnson - the old man who chunters on in 'authentic frontier gibberish.'
What's the worst thing you ever bought?
I had a CD by The Lighthouse Family. I no longer like that... I'd say the worst thing I've ever bought is a sleeveless denim jacket with a sewn in hood.
Which unsung British town is actually great?
London. London is great and most other places you go will tell you it's unfriendly. Not true. I spoke to my neighbour only this morning... through the wall as I yelled 'TURN IT DOWN!'
I also like Northern seaside towns out of season when it's cold.
What's the best room you've ever been in?
The Comedy Store. The first time I played that I couldn't believe I was in there.
Ever relieved yourself somewhere memorable?
Yes. The Comedy Store. I was nervous.