Lucy Hopkins
One random comedian, eight random questions: it's the ultimate test of funny person and fate. This week's heroic humourist is Lucy Hopkins, the self-confessed One Woman Clown Show, who has all sorts of interesting projects on the go.
First up, lets head to the East London venue Grow and a Comedy Cabaret on December 3rd, in aid of the Hackney Winter Night Shelter (which opens every November and provides support for homeless people, for four months).
Hopkins and the excellent Ben Target are joined by some of the best-named alternative acts around - Margot Clunge, Fred Strangebone, The Pushkinettes, and Legs (who won the Malcolm Hardee Award for Comic Originality at this year's Edinburgh Fringe), plus host Robin Clyfan and event founder Nathan 'Neighbours and The Stuntman' Lang.
So can Hopkins tell us what she might do that evening?
"Impossible to say," she says. "Anything could happen. But I will say it will be deeply cosmic, full of love and probably wonderfully healing."
And you don't get that at home, unless you're, er, Dr Strange. After that, the award-winning show-creator is also performing The Unknown ("a ritual for our times") at the Bill Murray on December 15th, and early next year she'll be heading to the Vault Festival "with this year's fringe hit Ceremony of Golden Truth."
Speaking of golden truth: Lucy Hopkins, your Random 8 await.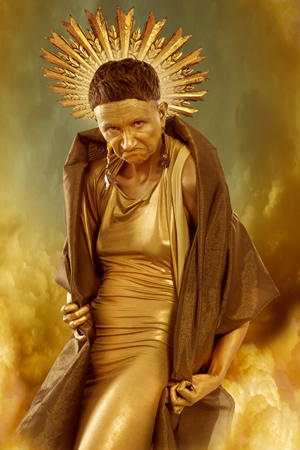 Who was your childhood hero (real or fictional)?
The Pink Panther. Relatively ungendered. Cool. In control. Lovable. Always comes out on top. Fantastic theme tune. The best.
What's the best or worst job you've ever had?
My dad gave me some work one summer, cross-checking training materials about extruding plastics. I don't want to talk about it.
Which historical figure should get more attention?
Baroness Elsa von Freytag-Loringhoven. Punk performance artist, poet and sculptor living and working in the early 1900s New York avant-garde scene. It is now supposed that it was she who sent Marcel Duchamp his famous 'readymade' artwork Fountain: a urinal, signed R Mutt. Which he then took the credit for.
What's your favourite phrase or expression?
'Why not?'
Who's the most interesting person you've ever met?
I met a mathematics professor from Australia once when I was living in Paris. We walked around Paris all through the night and had a 14-hour conversation about mathematics as the very language of the universe itself, we wove all the stuff of life through it. It was mind-bending and brilliantly thought provoking. He was traveling Europe picking fruit while his university was on summer break. Fascinating.
Which live event would you most like to have attended?
The 1922 Bauhaus School end of year show.
Is there a book - or film - that changed your life?
I read Feel the Fear and Do It Anyway by Susan Jeffers when I was 15 and working out whether I should move schools (I did it). Great book. It's still informing my life choices today.
Which low-key law would you introduce?
Decriminalise all drugs. Abolish plastic. Sorry, I'm not a very low-key sort.