Lou Sanders
One random comedian, eight random questions; it's the ultimate test of funny person and fate.
This week's absolute legend is Lou Sanders, who's reaching out across the channels right now, gracing 8 Out of 10 Cats Does Countdown a few weeks back, James Acaster and Josh Widdicombe's new Dave series Hypothetical soon, and there's a recording of The Unbelievable Truth for Radio 4 next week. Which is all timely as she's about to set off on her debut - surely not? - tour.
Yes, Lou brings her hugely acclaimed show Shame Pig to the nation's appropriately-sized theatres later this month. That's when it starts, anyway: the increasingly assured comic is doing Southend on the 24th then a run at the Soho Theatre (25th-28th), then taking March off due to weather or lent or whatever, then really getting the wheelie suitcase out from April onwards. Because that's how she rolls.
Lou Sanders, your Random 8 await.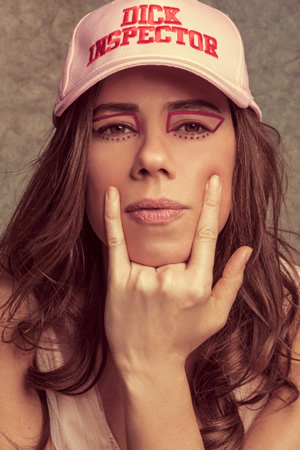 What's the best advice you've ever received?
Listen more. And put the things you want to take with you the next day by the front door. Very good advice unless you exit through the back door.
Who is - or was - your most interesting relative?
My auntie Sue. Absolutely bonkers she was. And we loved her.
My Dad's done some pretty 'interesting' stuff too.
What was your favourite kids TV show. And why?
Blue Peter. Why not?! I didn't like animation - give me humans, I thought. My EQ was off the charts, obvs.
Ever had a really disastrous holiday?
I nearly died once on Bondi Beach and had to be rescued by a life guard. And guess where I am right now? Bondi Beach! And I haven't drowned once.
What are you most envious of?
Big tiddies.
I mean: intelligence.
Your favourite piece of furniture, ever?
A bed.
Or a nice sofa that turns into a bed!
Ever met a surprisingly great/awful celebrity?
Cannot say. I'm too classy. But I did once kiss the guy from The Zutons all night and, at the end of the night to say goodbye, he shook my hand - hahahaha.
What's the weirdest thing you ever drank?
Home made Kombucha, which can poison you (the way I made it).