Kevin James Doyle
One random comedian, eight random questions; it's the ultimate test of funny person and fate.
This week the naughty-but-nice New Yorker Kevin James Doyle reminds us of a room above an Edinburgh pub in August 2017, where a show called The 30 Year-Old Virgin burst into life. That candid tale has now journeyed all the way to Amazon, and other platforms, thanks in no small part to that comedy boot camp.
"Fringe is the perfect way to hone a show like this," says Doyle. "I think the most important aspect for me was flyering and convincing people to come see it. Trying to sell people on coming to your show really makes you step back and see how much you believe in your material.
"When I began Fringe I was like, 'I think you'll like it' and by the end I would guarantee it would be worth their time. Because if I don't really believe that, why am I even doing a show?"
It's a fair point. Doyle subsequently found a spiritual home back in NY to record the special: the St George's Episcopal Church, which is intriguing, given the show's racy religious themes. So was it a very different experience, doing that material in such diverse venues?
"I wanted to talk honestly about my life and I try to be the same person wherever I am," he says. "In the pubs I was a little more nervous for the heartfelt moments in the show, and in the church I was more nervous about the stories about blow jobs, masturbation and sexually transmitted diseases."
Preach. Kevin James Doyle, your Random 8 await.
Who was your childhood hero - real or imaginary?
I was obsessed with the Ernest movies. Ernest Goes To Jail, Ernest Scared Stupid, Slam Dunk Ernest. Those were the funniest movies I had ever seen and, looking back, probably my first introduction to comedy. But at the time they were just my friend Matt and I's favourite movies to watch when we had sleepovers.
Ever walked out of a film or show?
No. I don't have any problem sitting through bad movies or bad shows as long as everyone is making an effort. But as someone who has put on some bad shows, it can be tough to give it your all when you know what you are doing is not good.
That is why you should NEVER EVER write shows with an intermission. It's just a 15-minute temptation for the audience to go to a bar, meet up with friends or go home.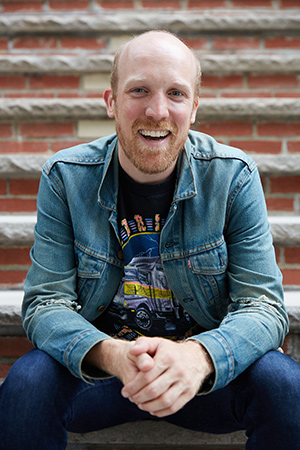 Which unsung town or city should more people visit?
I was on a tour of a children's musical back in 2009 and we were nearing the end of six months in a van. The entire cast was tired and moody and then we showed up in Asheville, North Carolina, for a week and it was like we entered a promised land. A beautiful little town with amazing restaurants, shops and breweries. And incredible mountains, waterfalls and forests. A magical place.
Your favourite shop, ever?
It would be a close one between my neighbourhood wine shop, Zula Wines, and my neighbourhood coffee shop, Roots Cafe. Both have great products and friendly knowledgeable staff - and my two favourite beverages.
How do you feel about cats (the animal, not the musical)?
I am allergic to cats so I avoid them, but there have been a few I've fallen for and it bums me out that I can't snuggle them or else I'll sneeze for the next 24 hours.
Now, as for Cats the musical... I went on opening day with my sister Kelly and it was one of the best movie experiences of my life. We just drank wine and laughed our asses off.
What's the best thing you ever bought a ticket for?
I got tickets to see Tom Waits, 12 hours from where I lived. That was about 12 years ago now and it was the last time he has played a show in the United States; each year that goes by I am more aware that I may have seen one of his final shows.
I hope he plays again but I remember at the time weighing the long drive and the cost of the ticket, gas, hotel. And it's a reminder to me of how special live performance is and how it can remain in our minds in ways that a movie or TV show or recording never can.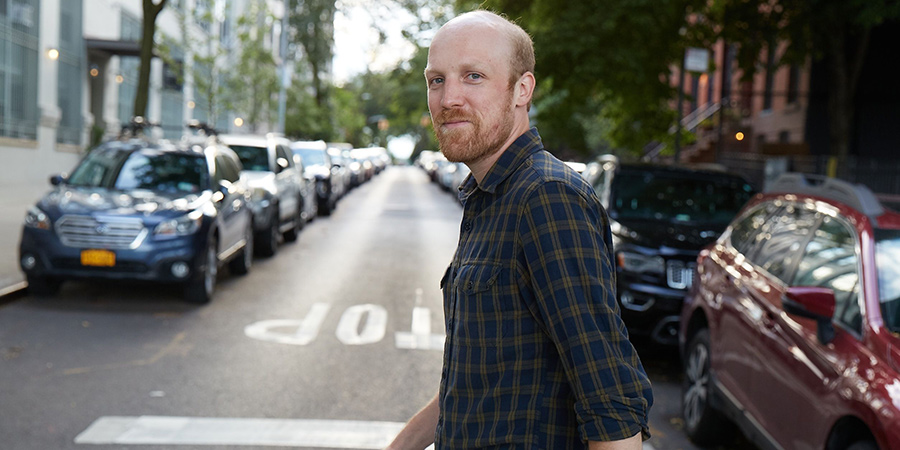 Who are you most envious of?
Anyone with a porch. I love New York but anytime I travel and see a porch I question my decision to live in this city. And if there is a rocking chair on the porch... sheesh. I am just burning up with jealousy now.
What's the most extravagant thing you've ever done?
Back in May after three months of quarantining in my apartment I went on a walk and saw some motorcycles. So I got online and found a 1976 Honda, bought it the next day, a week later got my license and I became a motorcycle guy in less than a week.