Katy Brand
One random comedian, eight random questions: it's the ultimate test of funny person and fate. This week's funny person is Brand, Katy Brand, license to keep audiences entertained, in all sorts of interesting ways.
The popular writer-performer has successfully tackled sketches, playwrighting, novel-writing, acting (comedy), acting (drama), podcasting, stand-up, monologuing, and on Thursday 19th she'll be compering, for the Funny Women Awards Final, at London's Bloomsbury Theatre. So what will that particular role involve, exactly?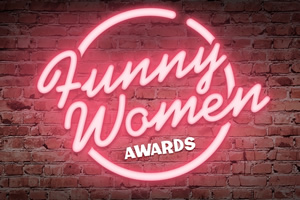 "I will be mainly keeping the show going (hopefully) and making sure the winners and nominees are all announced correctly," says Brand. "I'd say that's the baseline! But also keeping the laughs coming and the atmosphere light. And trying to foster a spirit of creativity, collaboration and enjoyment.
"I love that in theatre shows, everyone is invested in making it a good night as a whole, as a group. Whereas in stand-up it's easy to fall into feeling a bit isolated and competitive with other acts backstage (I know it's a competition, but still... we're all winners, right?). When the MC makes a warm atmosphere, I think everyone feels more confident and gives a better performance."
The busy comic is "so glad I was free to do this" - the gig, not this Q&A - as she's also on the road with various events promoting her new book, I Carried a Watermelon (out October 10th), and recording her new podcast, Women Like Us, with her old uni pal Katherine Parkinson.
And there no doubt numerous other irons in the fire. Katy Brand, your Random 8 await.
What was your childhood career dream?
What I'm doing right now! Or an astronaut. Or some form of Bounty Hunter. Though once I found Bountys were readily available at the local newsagent, the search became less urgent.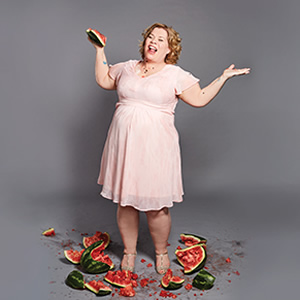 Is there a book or film that changed your life?
Dirty Dancing - I was obsessed with it between the ages of 11 and 13. I watched it every day for three months until it was confiscated for my own good. And now I've written a book about it! My husband says I can now reclassify my obsessive repeat viewings as 'time invested', rather than 'time wasted'. Which is why I married him.
Which historical figure should get more attention?
Mary Magdalene.
What's the best thing you ever wrote?
There are three things I am currently most proud of: my book I Carried a Watermelon; a short story I wrote called For Roger (published in Dead Funny Volume 1); and the original live monologue for a sketch character I used to do called Caroline.
I had forgotten my costume for a gig, so I had to write a new thing that fitted with what I was already wearing. So I created this city woman who had lost her job and gone on a drinking binge. It was called Little Treats. I scribbled it on a bit of paper in a pub, and performed it that night. It tore the place apart.
I've performed it around 150 times since then (including at the request of Victoria Wood for her live show Angina Monologues), and it has never failed once. I've never changed a word either. Very rarely, a little miracle like that happens.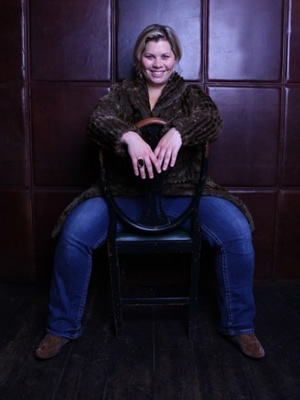 Ever walked out of a film or show?
Yes loads. I'm a terror for doing this. I actually left the Dirty Dancing Live on Stage show at the interval because I couldn't cope that it wasn't Patrick Swayze and Jennifer Grey. What an absolute child I am. It was a good show too. Other than that, once I realise I'm bored, I can't stay.
What's the greatest invention, ever?
The printing press. And the NutriBullet.
Who's the most interesting person you've ever met?
I've met loads of interesting people - I'm very fortunate like that. One of the most interesting is Sir Michael Morpurgo, who I am doing live shows with at the moment. I interview him on stage. He's completely fascinating, and the moment you think you've got him figured out, he surprises you again. I really enjoy his company.
What's your favourite phrase or expression?
'The harder I work, the luckier I get.' And 'Keep Buggering On'.