Juliet Meyers
One random comedian, eight random questions; it's the ultimate test of funny person and fate. This week's witty biped is one half of a pretty unique double act, very much the modern-day Turner and Hooch/Bernie and Schnorbitz/Julian and Fanny the Wonder Dog.
Yes, Juliet Meyers has a gig on September 28 at one of her favourite quadruped-friendly venues, London's Bill Murray (which is appropriate, as America's Bill Murray was actually considered for Turner And Hooch. Tom Hanks' part, presumably). Anyway, Meyers won't be alone.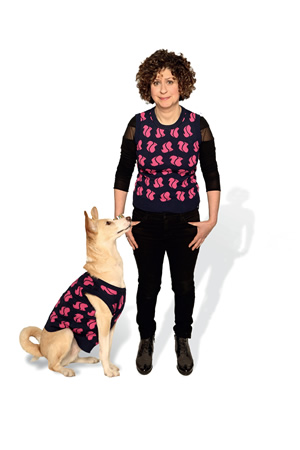 "I'm doing my stand-up show about loving and cursing my rescue dog Homer, anxiety, being a wolf and canine pee," says Meyers. "The dog is going to be there too as he doesn't like being left (and he's annoyingly popular)."
"He mostly meets and greets people as they come in - shaking their hands and checking bags for food. During the show itself, he has a few things to do, one of which he believes is to upstage me and clean his willy just as I'm about to say a punchline."
Hale & Pace often did the same apparently. Juliet Meyers, your Random 8 await.
Who is - or was - your most interesting relative?
When I was a child, I didn't think I had any. My dad used to subscribe to a magazine called Water Power Monthly about Dam Construction and we went on holidays near construction projects.
Then a few years ago two interesting relatives presented themselves at once - My Iraqi-Jewish grandmother whose life I'm exploring in a different show, and much to my utter delight, Paul D Zimmerman who wrote King Of Comedy.
I only found out when my aunt casually asked, "When you say you do stand-up comedy, do you mean like in Hedda's son's film?"
He's a very distant relative and died before I met him, but both childhood me and adult me are overjoyed.
What's your favourite mode of transport?
Bicycle, unless it's across water, in which case pedalo. I adore cycling and even looked into the possibility of getting a dog bike trailer for Homer, but he's quite big to pull up hills.
How do you feel about cats?
Sound the 'EXCUSE ME?!' klaxon! I'm doing a show with a dog who cannot abide them, since one launched itself at his face while he was tied up outside a polling booth.
Actually I don't mind cats, it's possible to like cats and dogs, but I do love dogs more - they are such wonderful company.
Which low-key law would you introduce?
Hmm. Make it illegal to drop litter or be Piers Morgan.
Who are you most envious of?
Anyone who can make the perfect tarka dhal. Or not have to constantly arrange dogsitters.
What's the weirdest thing you ever ate?
I had a bird's egg in Vietnam that was black and jelly-like. Apparently they are called century eggs. It was actually nice. Last Christmas I also tried locusts - a man dressed as someone from the Bible was handing them out to passers-by in The Lake District.
I heard a woman decline one, then she turned to her partner and said, "I know you don't think I'm adventurous but I promise to try an apricot." So I guess 'weird' is subjective!
Which film would you love to have been in, and which part?
Homer and I would like to be the new Dorothy and Toto in The Wizard Of Oz. I love it because it's about discovering you had the strengths you'd wished for all along, BUT also it's perfect because it means I can bring Homer to work.
Mind you, last year I got an email from someone making a sitcom pilot. It said "Is your dog an actor?" So maybe I stand more of a chance getting a part if the damn dog is in it.
Ever met a particularly great or awful celebrity?
I met Santa in a department store when I was six and he farted really horribly.
But then the other day I came out of a shop and Homer was shaking hands with Nigel Havers, so he's had a good experience.