John-Luke Roberts
One random comedian, eight random questions; it's the ultimate test of funny person and fate. For the first test of 2021 we welcome John-Luke Roberts, the consistently concept-bountiful comic who's now releasing a proper LP, It Is Better, via Monkey Barrel, the much-admired Edinburgh club-cum-label. There's a Crowdfunder hitting critical mass as we speak.
"I've always wanted to make a comedy album, but I've never got around to it," Roberts reveals. "Every year for a while I've thought 'is this the year?' before thinking 'no, not this year - I'll wait until there's a global pandemic.' Come March 2020, I had no more excuses. So, I started scribbling down ideas.
"I thought about the audio comedy I loved - especially the ones without an audience: like Sir Henry At Rawlinson End, and Ivor Cutler's output, and Why Bother?... and so on. I realised they all had a particular intimacy different from the type you get with a live performance, and set about working out how to do that.
"I'd had the germ of a show for a while - a sort of obsessive listing of different real things and imagined things as better or worse than each other. It was a good way of generating jokes. I started playing with the list, and it felt right for this project - and for this time too, I think. There's something about our enforced hermitages which lends itself to obsessive list making.
"As the material built, I knew I wanted to make the most of the sound of the thing: there's no visual input for the audience, so best maximise the aural input. I got John Chambers, a fantastic composer, to create music and sound beds for the thing."
He certainly did, and you can hear a sneak peek - or whatever the audio version of 'peek' is - on YouTube, and also clock that striking cover image. Roberts even gives good visuals when he goes audio.
"The lovely thing about records, is that they're an object. They're tactile and there's space for a massive picture on them, and the mechanical nature of playing them draws you into their ritual. But what picture should I use? I'd started building a tiny, dolls-house scale comedy club in a box, and realised the obsessive nature of that matched the obsessive nature of the show itself.
"Also, I loved the image of my face smashed into it. I've gone to Natasha Pszenicki for my photos for years now - she's so good at making beautiful images, and it's such a treat to collaborate with her. She didn't let me down."
It is better, indeed. John-Luke Roberts, your Random 8 await.
Who was your childhood hero; real or fictional?
Questions like this are troublesome, because 1) I had a variety of childhood heroes at different ages, 2) I feel a really strong urge to say a name which a) makes the reader feel an emotional connection to me so they'll feel an urge to buy my record and b) presents me in a good light. So in answer I would say, either the mother of whoever it is who's reading this, or Martin Luther King Jr.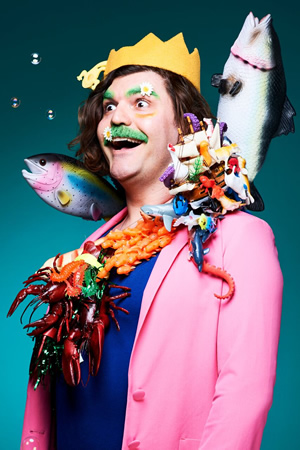 What's the weirdest thing in your wardrobe?
Either the camouflage jacket I've sewn loads of fake flowers on so it looks like I'm wearing a hedge, or the cape with six long boobs sewn in I wear when I play a Terrible Old Crone. Or my dead father's huge old suit which I fill with balloons to play him on stage.
Which low-key law would you introduce, to make life a bit better?
The Thames Path should go along the river all the way on both sides, and anyone who owns property on the river must, by law, make the riverside accessible to all.
What should be Britain's next national anthem, and why?
I don't know the tune, but the lyrics would be something like "God, listen. The Queen seems pretty good at looking after herself, so here's some things you should prioritise," and then a list of stuff like world peace, fixing the escalators in Cutty Sark DLR station, bringing the 1980s-and-90s rubber puppet toys Boglins back to the marketplace etc.
Which place you've visited was the biggest anti-climax?
Thorpe Park, without a doubt. Half the rides were closed, and the queues were so long we maybe got on two of them all day. I realise this answer is also an anti-climax but hey-ho you get what you get. Oh, also Funkytown - I couldn't hear myself think.
Is there a book or film that changed your life?
Riders by Jilly Cooper. My parents read it shortly before I was conceived.
Your most regrettable purchase?
Year-long worldwide travel insurance at the end of 2019.
Who are you most envious of?
The Dalai Lama: he doesn't envy anyone, lucky bastard. What I'd give not to envy anyone! Bastard.