Joe Stilgoe
One random comedian, eight random questions; it's the ultimate test of funny person and fate. Actually this week's guest is a fine musician, who moonlights in the funny business. But then he's got crossover genes.
Joe Stilgoe is probably best known to comedy buffs as an alumni of The Horne Section, tinkling the ivories for the eponymous Alex's comedic combo - and playing the piano, when the ivories are tinkled. Those genes: his dad is Sir Richard Stilgoe, the multi-talented humourist, pianist and composer (who was also involved in one of the first alternative comedy TV vehicles, with Rik Mayall and co, A Kick Up The Eighties).
Stilgoe the younger is with us today to talk about Joe Stilgoe's Christmas Album, which is fairly self-explanatory, and was "huge fun to put together," he says. "All recorded in July, of course, the best month for Christmas."
Rob Brydon is one notable guest there. Was he in full Tom Jones mode?
"Rob was amazing - we actually have the outtakes where he does his Michael Caine impression in the middle of the song talking about 2-for-1 deals at Majestic and trying to avoid the traffic on Christmas Eve. I'll play them to you one day.
He also "particularly enjoyed working with Ben Castle again (Roy's son) as we reworked his Dad's song Little White Berry: Ben said it had the family's full blessing, so that was a proper moment of goodness." Meanwhile Joe continues to dabble, comedically.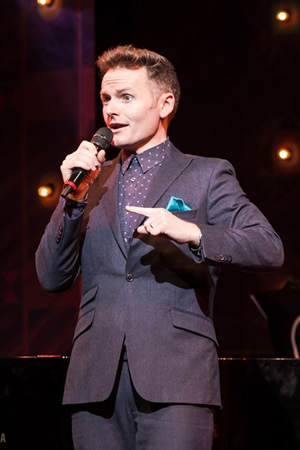 "I feel I still have a toe in that world as I perform with Rob quite a lot, as well as Harry Hill, Alexander Armstrong and others," he says. "I made a decision to leave The Horne Section a few years ago as I wanted to concentrate on my own things, and really just to concentrate as well, but I still get asked to write funny songs (TRICKY), and I'm working on a couple of scripts and a music quiz for radio, which will hopefully generate at least one laugh. The thing I miss most about being in the comedy world is how sane I felt most of the time."
The door is still open. Joe Stilgoe, your Random 8 await.
What was your childhood career dream?
In order: burglar, policeman (what a turnaround), estate agent (another dip), and magician.
Which film or TV show would you love to have written music for?
I'd say Lovejoy because it's the greatest TV show ever, but Denis King's music is so glorious I couldn't improve it. So, The Muppets.
Who are you most envious of?
What's the best room you've ever been in?
Ronnie Scott's. It's the greatest jazz club on the planet - a place I'm amazed to be able to perform in every year, and the reason why I wanted to become a jazz musician. The atmosphere, history and frankly the amount of booze in that room makes it my favourite.
Do you have a signature dance move?
The crab.
What's your favourite music-based Christmas memory?
Watching my Dad at the Albert Hall hosting the carols when I was about eight. It started my addiction to Christmas, and somehow I've come full circle as I'm there singing on the 23rd and 24th.
When were you most embarrassed?
Just then, plugging my Albert Hall gigs.
What should be Britain's new national anthem?
A Hole in The Ground by Bernard Cribbins.